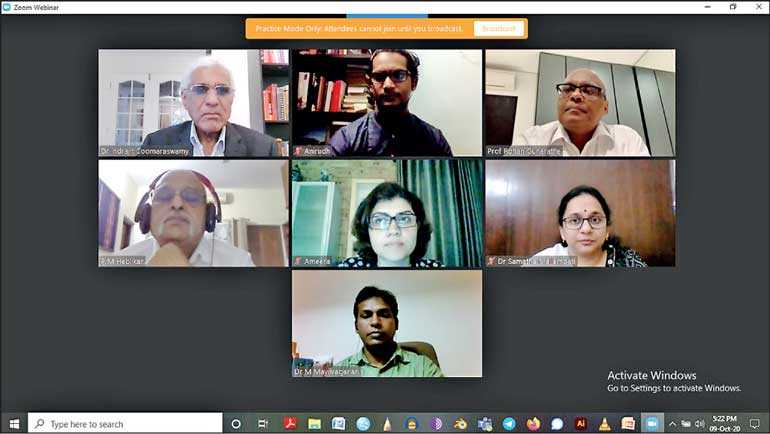 Dr. Indrajit Coomaraswamy, former Governor of the Central Bank of Sri Lanka and Senior Fellow of Pathfinder Foundation, called on Sri Lankan policymakers to take advantage of the size of the Indian market speaking at a joint Takshashila Institution and Pathfinder Foundation webinar held recently.

The webinar titled 'India-Sri Lanka Relations: The Way Forward' was jointly organised by the Pathfinder Foundation (PF) and the Bangalore based Takshashila Institution (TI).

Dr. Coomaraswamy, together with Prof. Rohan Gunaratna, Professor at Nanyang Technology University, Singapore were the two main panellists. The discussion was hosted by Anirudh Kanisetti, Associate Fellow at TI. Dr. Samatha Mallempati, Research Fellow, Indian Council of World Affairs and Dr. M. Mayilvaganan, Geopolitical and Strategic Analyst and Associate Professor, ISSSP, NIAS joined as discussants.

In this webinar, Dr. Coomaraswamy highlighted that the ties between the two countries were long and multifaceted and that there was a sound relationship to build on. He highlighted principles that should underpin economic and trade relations between the two very asymmetric economies; identified a number of tailwinds that are favourable for building on the good foundation to further the economic and trade relations between the two countries; briefly assessed the Indo-Lanka Free Trade Agreement and then listed certain priorities for the way ahead.

Prof. Rohan Gunaratna spoke candidly of the unique relationship between the two countries and stated that Sri Lanka considers the Indian sub-continent as family. He traced the security relationship between the two countries from ancient times to the present and stated that we should focus on the positive dimensions of our relationship. If we are to harp on the negatives, neither country would thrive, and the region will be a zone of disharmony and not peace.

Furthermore, Prof. Gunaratna articulated the stance of President Gotabaya Rajapaksa and his Government when it comes to economic, trade and security policy. He said that the President has anticipated that there will be significant competition in the Indian Ocean region, and as such it would behoove Sri Lanka to be a neutral state and create its own narrative.