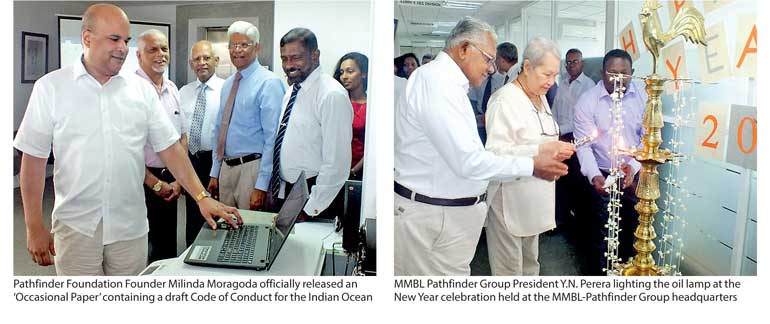 The Pathfinder Foundation commenced the New Year by inaugurating its 'Centre for the Law of the Sea' (CLS) at 'Riverpoint', Peliyagoda. Pathfinder Foundation Founder Milinda Moragoda officially released an 'Occasional Paper' containing a draft Code of Conduct for the Indian Ocean at the organisation's New Year celebration held at the MMBL-Pathfinder Group headquarters recently. This draft Code of Conduct is open for public discussion and is accessible on the Pathfinder Foundation website: www.pathfinderfoundation.org.

The draft Code of Conduct for the Indian Ocean was created to assist consideration of the idea by the 21 littoral States members of the 'Indian Ocean Rim Association' (IORA). The draft is based on the Djibouti Code of Conduct concluded by the East African countries in 2009, and the Yaoundé Code of Conduct signed by the West African countries in 2013. The former was aimed at providing maritime security to counter piracy and armed robbery against ships by nine states in the Western Indian Ocean, Gulf of Aden and Red Sea areas. The latter concluded by 25 countries in Western and Central Africa, seeks to eliminate armed robbery against ships and illicit maritime activity. These two Codes of Conduct were adopted under the aegis of the International Maritime Organization (IMO).

President Maithripala Sirisena, when speaking at the IORA Summit held in Jakarta in May 2017, called on Member States to "work out a stable legal framework to deal with drug smuggling by sea", while maintaining principles of freedom of navigation.

Prime Minister Ranil Wickremesinghe, referring to wider security concerns, proposed adoption of a Code of Conduct to apply in the Indian Ocean in several forums, including the 2nd Indian Ocean Conference held in Colombo September last year. In an address at Deakin University in Australia last February 2017, he observed that there had been a massive transfer of economic and military power to the Asian countries of the Indian Ocean and the Pacific and emphasised the need for a Code of Conduct on freedom of navigation to be observed in the Indian Ocean, adding that any such proposal would also need to deal with the escalation in human smuggling, illicit drug trafficking and the relatively "new phenomenon of maritime terrorism".

Sri Lanka is not alone in expressing concern over recent developments in the Indian Ocean. Speaking at the 2nd Indian Ocean Conference, India's External Affairs Minister Sushma Swaraj emphasising the need to develop an arrangement that strengthens the culture of cooperation and collective action and said, "The Indian Ocean is prone to non-traditional security threats like piracy, smuggling, maritime terrorism, illegal fishing, and trafficking of humans and narcotics. Going a step further she said, "We realize that to effectively combat transnational security challenges across the Indian Ocean, including those posed by non-state actors, it is important to develop a security architecture that strengthens the culture of cooperation and collective action."

The list of issues raised by President Sirisena, Prime Minister Wickremesinghe and India's External Affairs Minister Swaraj is significant and piracy in the Indian Ocean became so rampant around 2009, it resulted in the stationing of multi-national Naval Task Groups and warships of several individual navies of major maritime users of the Indian Ocean. Some of these activities caused political and security concerns to some countries. In addition, merchant ships operating in the high-risk area in the western Indian Ocean too were compelled to implement additional security measures such as privately contracted on board security personnel and hardening of vessel against possible attacks by pirates.

Development of a 'Code of Conduct' could be a time-consuming exercise as 21 countries, who are members of IORA, would need to negotiate the final document. The intention of the CLS is to facilitate such a process and building of consensus leading to a final text, which would be acceptable to the Indian Ocean community. The CLS has become a reality with a generous contribution made by Moragodage Christopher W. Pinto, former Legal Adviser and head of the Legal Division of the Ministry of Foreign Affairs, who also served as Sri Lanka's Ambassador to Germany and Austria.

A former Chairman of the United Nations International Law Commission, he was later appointed Secretary-General of the Iran-United States Claims Tribunal, at the invitation of both countries concerned. The Moragoda Trust established by him has funded internationally recognised professors of Public International Law to teach at the General Sir John Kotelawala Defence University in their areas of specialisation since 2014.

Pathfinder Foundation Founder Milinda Moragoda, CLS Chairman Bernard Goonetilleke, CLS

Director Admiral Dr. Jayanath Colombage, Pathfinder Foundation Senior Fellow Lalith Weeratunga, Pathfinder Foundation Executive Director Luxman Siriwardena, MMBL-Pathfinder Director Nandana Devage and MMBL-Pathfinder Director Legal K.D. Liyanage participated at the event.