Says Govt. will be held responsible if anything happens to Ramanayake or his life
Points out Ramanayake who advocated strong action against drug traffickers now being jailed together with convicted
Calls on Govt. to move Ramanayake to secure facility near Colombo to ensure safety
Asserts Speaker has to now make arrangements for Ramanayake to attend Parliament
---
By Asiri Fernando
---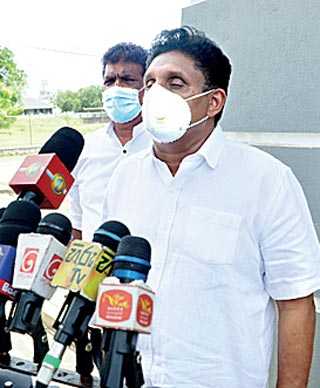 Opposition Leader Sajith Premadasa speaking to media in front of Agunukolapelessa Prison Complex yesterday
---
Detaining Opposition MP Ranjan Ramanayake at the Agunukolapelessa Prison complex is unsafe and may pose a threat to the convicted Parliamentarian's life, claimed Opposition Leader Sajith Premadasa, stressing that the Government was responsible for his safety.

Premadasa made these remarks at a press briefing following a visit to Agunukolapelessa prison yesterday, where he met and inquired about the well-being of his Samagi Jana Balawegaya (SJB) colleague.

MP Ramanayake was imprisoned after being found guilty of having committed the offence of contempt of court by the Supreme Court last month.

"Detaining Ranjan Ramanayake here at Agunukolapelessa has put his life in danger. I understood this when I met him. The information I received indicates that his life is in danger. If anything happens to Ramanayake or he loses his life, the Government will be held responsible for it," Premadasa said.

The Opposition Leader argued that Ramanayake who advocated strong action against drug traffickers was being jailed together with convicted traffickers. "There is a possibility that Ramanayake's life may be threatened by some of the inmates at Agunukolapelessa prison," he added.

Premadasa called on the Government to move Ramanayake to a secure facility near Colombo to ensure safety.

"The legal position regarding MP Ramanayake has been communicated to the General Secretary of the Parliament by the Appeals Court," Premadasa said, responding to a question regarding the jailed MP's parliamentary seat.

Premadasa pointed out that it was now the responsibility of the Speaker to make arrangements for Ramanayake to attend Parliament.

In spite of the repeated requests by him and other Opposition MPs, Premadasa raised concerns as to why the Speaker has failed to address the matter of making necessary arrangements for MP Ramanayake to attend Parliament sessions.

"I believe, Premalal Jayasekera has been given permission to attend Parliament session on Tuesday, but not Ranjan Ramanayake. I see this as an unfair practice. Two MPs who were elected by their constituents are being treated in two different ways. The Speaker has no moral grounds to treat these two different," he stressed.

The Speaker had earlier made arrangements for another convicted MP (charged with murder) Premalal Jayasekara of the Sri Lanka Podujana Peramuna (SLPP) to attend Parliament until his appeal against the conviction was concluded in court.

The Opposition Leader said that the SJB will continue to support MP Ramanayake's appeal against his sentencing and urged the speaker to reveal his stance on the matter.