Opp. Leader accuses Speaker of double stands on allowing convicted MPs to attend sittings
Says Ramanayake's life under threat in prison
Speaker says no provision for MP convicted by SC to attend Parliament
---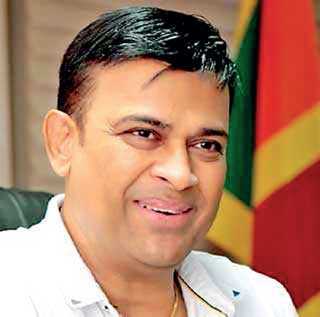 MP Ranjan Ramanayake
---
Parliament sittings ended abruptly yesterday after Samagi Jana Balawegya (SJB) MPs took to the Well of the House to protest against the failure by Speaker Mahinda Yapa Abeywardene to instruct prison officials to enable jailed MP Ranjan Ramanayake to attend sittings.
The protest broke out after Opposition Leader Sajith Premadasa made repeated requests to allow Ramanayake to attend sessions, and also called for the transfer of the jailed MP from the Angunukolapelessa prison where he is presently incarcerated to Welikada prison.

"MP Ramanayake confessed to me that his life is under threat at the place he is being held at present, among drug smugglers and murders. As someone who has spoken out particularly against illegal drug dealers, his life is under threat," Premadasa said.

He also accused the Speaker of double standards in allowing SLPP MP Premalal Jayasekera, who has been sentenced to death over a murder conviction, to attend settings but disallowing Ramanayake.

The Speaker however countered that there is no provision for anyone to file an appeal against the verdict given by the Supreme Court.

"The Appeal court has not accepted the appeal filed by the MP; only a motion filed by him has been accepted," he added, saying that there was no comparison between the MP Jayasekera's case and this one.

State Minister of Prison Reforms Lohan Ratwatte said Ramanayake is being held in a special cell to ensure his security. "Angunakolapalassa prison is the most modern prison complex in the country. Welikada is the most unsafe prison in Sri Lanka," he said.