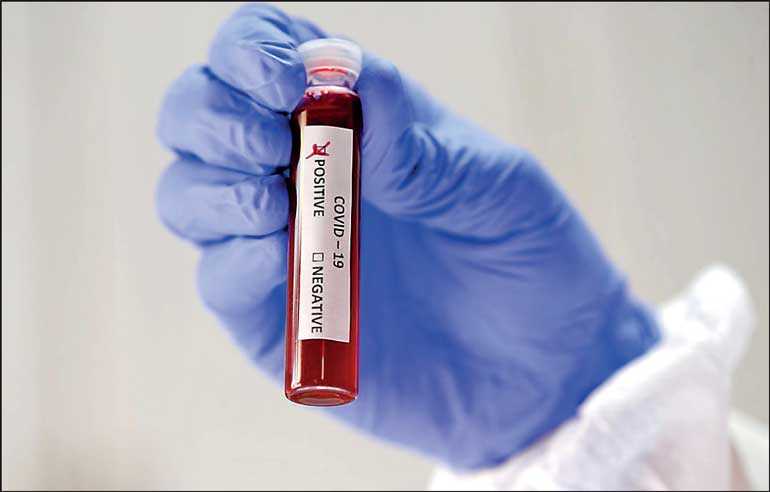 ---
21 new recoveries bring total to 2,317
Over 3,000 persons undergoing quarantine at centres
By Asiri Fernando and Shailendree Wickrama Adittiya

The number of active COVID-19 cases in the country dropped to 482 with the recovery of 21 persons and zero new patients identified yesterday.

The Epidemiology Unit states that 11 of the new recoveries were from the Welikanda Base Hospital, three from the National Institute of Infectious Diseases (NIID), two from the Kattankudy Base Hospital, two from the Panagoda Army Hospital, two from the Kamburugamuwa District General Hospital, and one from the Iranawila Hospital.

This brings the total COVID-19 recoveries in the island to 2,317 and the recovery rate to 82.46%.

With no patients identified yesterday, the number of patients receiving treatment dropped to 482. Of these, 289 are at the Kandakadu Treatment Centre, 53 are at the Welikanda Base Hospital, 42 are at the NIID, 42 are at the Minuwangoda Base Hospital, 25 are at the Kattankudy Base Hospital, and 16 are at the Panagoda Army Hospital.

10 persons at the Iranawila Hospital and four persons at the Colombo East Base Hospital are also currently under medical care.

The total number of confirmed cases in the country thus remains at 2,810, of which 950 are Navy personnel and their close contacts, 917 are Sri Lankan returnees from abroad, 599 are from or contacts of the Kandakadu cluster, and 31 are foreigners.

The Epidemiology Unit adds that 80 persons are currently being monitored at various hospitals over COVID-19 suspicions. This includes 20 persons at the Sri Jayewardenepura Hospital, 14 at the Chilaw General Hospital, and 11 at the Kotelawala Defence University (KDU) Hospital.

While a total of 155,540 PCR tests have been carried out thus far, the Health Promotion Bureau states that 1,349 tests were carried out on Tuesday.

The National Operation Centre for Prevention of COVID-19 Outbreak (NOCPCO) stated that 29 returnees from London and Doha were directed to quarantine centres yesterday, adding that 3,102 remain in quarantine at 40 centres.

They added that 555 persons from four quarantine centres completed the process, including 193 from Purawasakulam, 176 from Kahagolla, 118 from Periyakadu, and 68 from Punani.

The Defence Ministry in a statement issued yesterday stated that 165 persons left the Vanni Quarantine Centre managed by the Sri Lanka Air Force yesterday. According to the Sri Lanka Air Force, the group of 165 persons were returnees from Dubai.