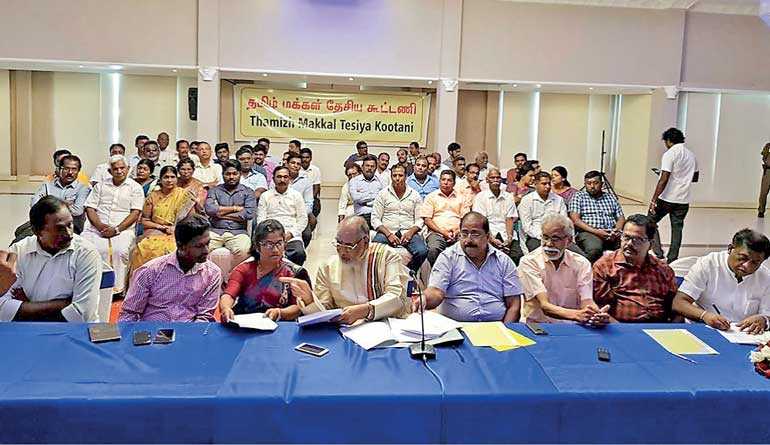 Northern Provincial Council (NPC) former Chief Minister C. V. Wigneswaran with coalition members at the launch
---
New alliance in North headed by former CM to contest General Elections

Agreement to form Tamil People's National Alliance signed

Hopes to give alternative leadership to Tamils
Four political parties in the North signed an agreement yesterday to form a new alliance to be headed by Northern Provincial Council (NPC) former Chief Minister C. V. Wigneswaran to contest the upcoming General Elections.
The alliance, named the Tamil People's National Alliance (TPNA), brings together Wigneswaran's Thamizh Makkal Kootani (TMK), Eelam People's Revolutionary Liberation Front (EPRLF) headed by former MP Suresh Premachandran, Eazhavar Suyatchi Kazhagam (ESK) of former NPC member Ananthi Sasitharan, and Thamizh Thesiya Katchi, or Tamil National Party, of former MP and NPC member M.K. Sivajilingam and S. Srikantha.
The alliance was formed to give an alternative leadership for Tamils, speakers at the event held to sign the agreement said.
The Illankai Tamil Arasu Kachchi (ITAK), which dominates politics in the North, has moved away from its manifesto and failed to deliver on pledges made to the people of the region, they said.