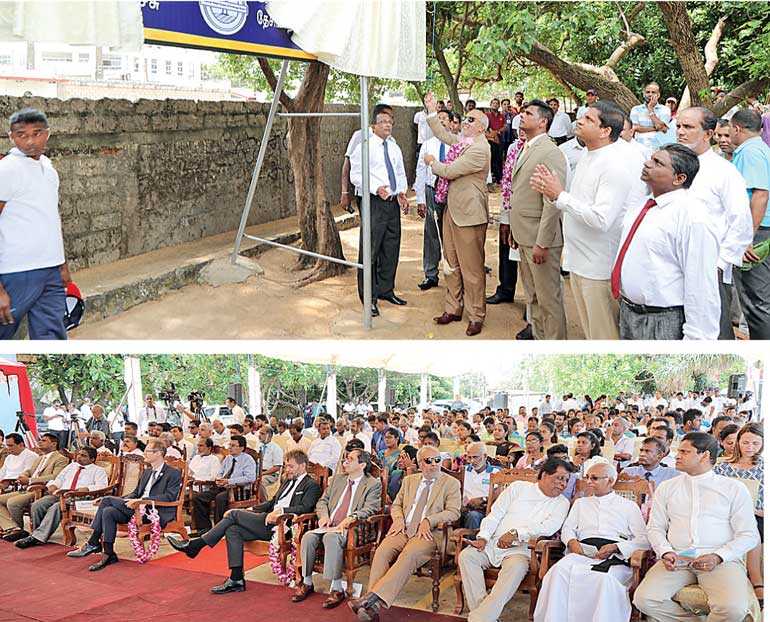 A major wastewater management system first of its kind in the Negombo area was inaugurated by City Planning and Water Supply Minister, leader of SLMC Rauff Hakeem.

The Rs. 20 billion project will take four years to construct, and is funded with support from the European Union, French Agency for Development and Sri Lankan Government.

City Planning and Water Supply Minister Rauff Hakeem thanked the international agencies for their financial support and said that the 'European Union and France has a lot to share with Sri Lanka.

"One of the main ideas in providing this infrastructure is to preserve our beautiful landscape and leave the water resources for the successive generations of posterity," he said.

Negombo lagoon and the ocean have progressively been subjected to heavy pollution because of non- availability of a proper waste disposal system in this important city," he added.

The new wastewater treatment would not only help preserve marine resources, but also protect human health by securing safe drinking water and a clean environment, he emphasised. In addition he said several other cities were ear marked for wastewater systems, such as Galle and Unawatuna. "With increased urbanisation we are experiencing we are faced with this challenge of our ground water resources getting polluted and the beauty of the environment getting disturbed," he said.

"The European Union is committed to supporting international ocean governments, (and) lays emphasis on managing and using the world's ocean and their resources in ways to keep our oceans healthy, productive, safe, secure and resilient," said EU Ambassador Tung- Lai Margue. He said the EU contributed almost six million euros to the project.

The European Union has a long standing relationship with Sri Lanka and the first cooperation agreement was signed 43 years ago, in 1975. Support offered by the EU was implemented through financial aid for development actions including humanitarian cooperation and help to conflict effected cities.

"The EU's support to Sanitation and Hygiene Initiatives for Towns (SHIFT) is also indicative of our interest in supporting investment projects in Sri Lanka. This initiative is one of our first investment projects and is financed jointly by AFD and the EU."

"The European Union has contributed EUR 5.7 million to the project. We hope that this contribution will assist the Sri Lankan Government in conducting a thorough analysis, build capacity restructure – as necessary, the National Water Supply and Drainage Board (NWSDB), in view of improving its operational and financing capabilities, namely on the sanitation part."

French Ambassador Jean-Marine Schuch said, "AFD, the French Agency for Development, provides Official Development Assistance of France to finance development in Sri Lanka, for the benefit of the Sri Lankan people. We are proud to be a key partner of Sri Lanka to preserve its public health and environment and therefore boost its Blue Economy Potential." Sri Lanka is known as 'the Pearl of the Indian Ocean'. There is a challenge to preserve its fragile coastal ecosystem. The Government of Sri Lanka is fully committed to it and investing massively in sewerage.

National Water Supply and Drainage Board Chairman Alahudeen Ansar said the Negombo lagoon and coastline has been consistently polluted by municipal waste over time, largely the results of residents using individual septic system, which can overflow. He also said the new project, which includes 70km of pipeline and nine pumping stations, will serve about 75,000 people.