The family of M.S. Fouzul Ameen (49) is in shock. The well-to-do furniture shop owner from Kottaramulla in Nattandiya fell victim to a mob attack on Monday night, passing away at the Marawila Hospital, having sustained serious cut injuries to his neck and face.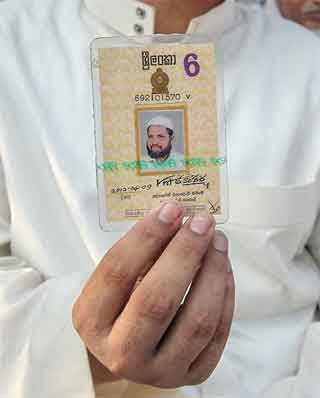 M.S. Fouzul Ameen's national identity card held by one of his sons
After his family laid him to rest yesterday afternoon amidst tight security at the local cemetery, friends and relatives gathered around to console his wife and four young children, aged between 16 to six years.

"He was a generous businessman, who helped out many in time of financial difficulties giving them loans. He employed five Sinhala boys in his workshop, and paid them weekly for their work. Now his family is left to fend for themselves," his brother Mohamed Ibrahim said.

Ameen had been home with his family on Monday evening, about to end the daily fast around 6.20 p.m., when a mob charged into the area. They had begun by stoning the house and smashing windows, while the family stayed huddled inside. It was when the men started to smash his vehicle that Ameen had come out in a bid to dissuade them from doing so.

"The group of about five men had turned on him when he came out, and slashed him with a sword. He had fallen to the ground grievously hurt, after which they had poured turpentine that was lying around in the wood workshop on his face and left," said Mohamed Haniffa, an uncle of the deceased.

After the ruckus had subsided, the family had rushed him to the Marawila hospital where he had passed away.

His 16-year-old son Ajmir is too upset to talk, as he sits quietly clutching the National Identity Card of his late father. His younger siblings are too young to fully realize the gravity of the situation unfolding around them, while their mother is too distraught after the events of the past 72 hours to talk.

"What happened is unfair. We are not terrorists, it is people who do these things who are terrorists, but there is no one to stop them," the deceased man's uncle Haniffa said.