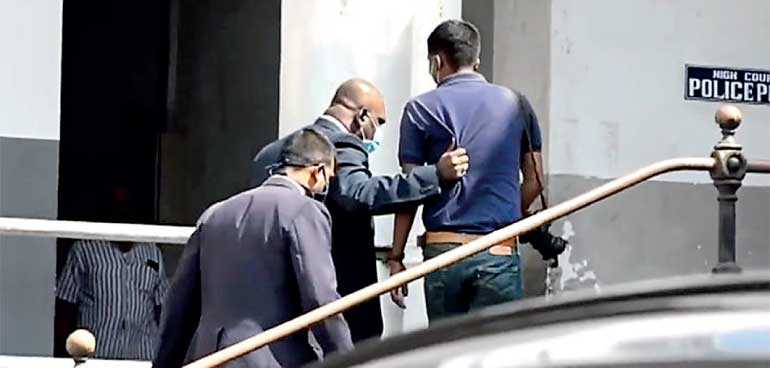 Photojournalist Akila Jayawardena being manhandled by Inspector of Police Neomal Rangajeewa
---
DG Info. Dept. lodges complaints with IGP and condemns incident
Media rights groups and Photojournalists Association call for prompt inquiry
---
Several media rights groups, including the Free Media Movement (FMM) and the Photojournalists Association of Sri Lanka, have condemned the manhandling of photojournalist Akila Jayawardena by a policeman near the courts complex at Hulftsdorp on Friday and called for an inquiry into the incident.

The photojournalist lodged a complaint against Inspector of Police Neomal Rangajeewa, who was seen manhandling Jayawardena, who was on coverage at the High Court courts complex.

Jayawardena complained the inspector had intimidated and harassed him and had obstructed his professional duties as well.

The Department of Government Information made an official complaint to the Inspector General of Police (IGP) after being notified of the incident and requested an impartial inquiry.

Director General of the department Nalaka Kaluwewa said the Government condemned the incident and noted that Jayawardena was on official duty and has an identity card issued by the Information Department and cannot be obstructed from carrying out his duties.

The Photojournalists Association, in a statement, condemned the Police officer's actions and said that Jayawardena had made it clear that he was on official duty to Rangajeewa, but this was disregarded by the officer.

The Association also said that this kid of unbecoming behaviour by a Police officer cannot be tolerated and called for a prompt inquiry.

The Free Media Movement, in a statement, strongly condemned the Police officer's action of intimidating a journalist who had been at the court premises to cover an assignment.

In this statement, they condemned the forceful obstruction, intimidation and threats made by Inspector Rangajeewa.