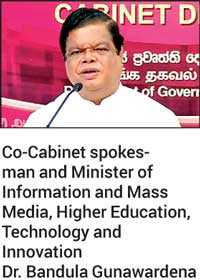 Co-Cabinet spokesman and Minister of Information and Mass Media, Higher Education, Technology and Innovation Dr. Bandula Gunawardena has said the Mahapola scholarship allowance to university students will continue even though the universities have been closed due to COVID-19 countering measures.

Accordingly, the Mahapola scholarship allowance for the past month will be credited to the accounts of each student.

The Minister, pointing out that the funds for the Mahapola scholarship are obtained through the lottery ticket sales, said as a result of the prevailing situation in the country in the past few months, there were no lottery sales.

However, the Government will find funds to continue providing the Mahapola allowance to university students, the Minister said during the Cabinet press briefing held at the Information Department on Thursday.