Pledges to take tough actions against officials' links to narcotic trade
Says President is capable of eradicating drug trafficking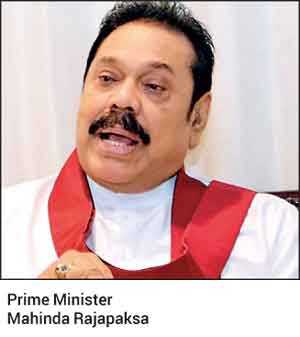 Renewing his pledges to eradicate the drug menace in the country, Prime Minister Mahinda Rajapaksa stated that the Government will set up a mechanism to track down those connected to the trade and bring them to the books, at Horana yesterday. He also said that the Government would not hesitate to take strong decisions to protect the younger generation from the drug menace.

"Drug menace and underworld gang activities have become one of the biggest issues in the country. We have a responsibility to protect the younger generation from drugs and create a better tomorrow for them. I can assure under our government that we will take necessary measures to eradicate the drug menace in the country," Rajapaksa said.

A group of Police Narcotic Bureau (PNB) officers were arrested recently for alleged drug trafficking and special investigations are underway over the incident, to look for those involved in the case. The Premier charged the previous administration, noting that they failed to take measures to control drug trafficking and underworld gang activities, which affected the public's daily life.

According to him, drug trafficking and underworld activities has increased significantly during the past five years and claimed that it indicated the inability of the previous administration. "During the past five years, drug trafficking increased significantly. Even those who were supposed to track down drug smugglers (PNB officials) become part of it."

"That shows how unqualified they were (past administration) and how complex the situation is at present in tracking down them," he added. Prime Minister Rajapaksa noted the Government had commenced a special investigation into those officials involved in PNB and assured to bring them to the books.

He pointed out that President Gotabaya Rajapaksa has commenced a special program to eradicate drug trafficking and underworld activities, which has already shown positive results. "We can expedite these measures after the election and a two-third majority will help us to continue these measures," he added.