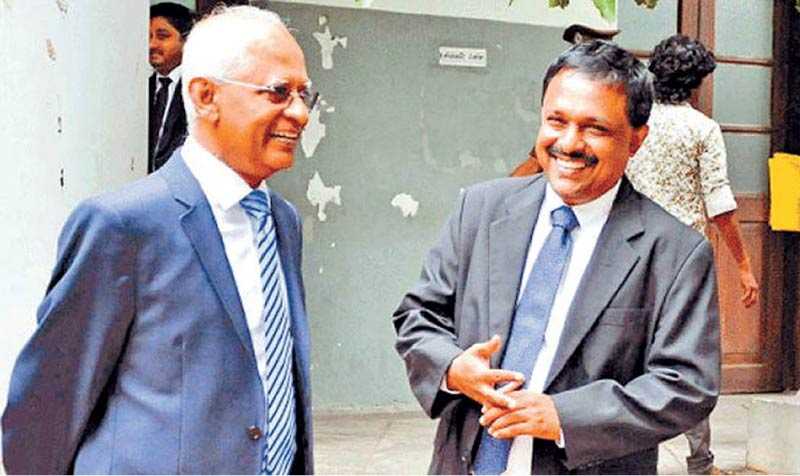 Lalith Weeratunga and Anusha Palpita
---
The Court of Appeal yesterday acquitted the former Secretary to the President Lalith Weeratunga and former Telecommunications Regulatory Commission Director General Anusha Pelpita, who were convicted in the 'Sil Redi' distribution case and sentenced to three years in prison, from all charges and released.

The Court of Appeal two Judge bench comprising Justice Kumuduni Wickremasinghe and Justice Devika Abeyratne delivered the ruling, taking into consideration the appeal petitions filed by Weeratunga and Pelpita.

Announcing the verdict, Judge Wickramasinghe said that the decision was taken after a detailed analysis of the submissions made by the petitioners and the Attorney General.

The Judge stated that the two defendants in the case were senior public servants and that the analysis of the evidence and documents presented did not reveal any evidence that they had committed a fraudulent misuse in the relevant incident.

Accordingly, the Judge pointed out that the three indictments filed against the accused in connection with the misappropriation of funds had not been proved beyond a reasonable doubt, and ordered that the accused be acquitted and released.

The Attorney General had charged Weeratunga and Pelpita with misappropriation of Government funds by distributing 'Sil' cloth to temples islandwide at a cost of Rs. 600 million belonging to the Telecommunications Regulatory Commission during the 2015 Presidential Election.

On 7 September 2017, the Colombo High Court sentenced Weeratunga and Pelpita to three years' imprisonment with hard labour and fined them Rs. 2 million each.

In addition, the then Colombo High Court Judge Gihan Kulatunga had ordered the defendants to pay Rs. 50 million each in damages. Weeratunga and Pelpita filed the appeals before the Court of Appeal, claiming that the manner in which they had been sentenced was against the law and that they should be acquitted of all charges.

The Court of Appeal pronounced its verdict after a lengthy hearing of the appeals.