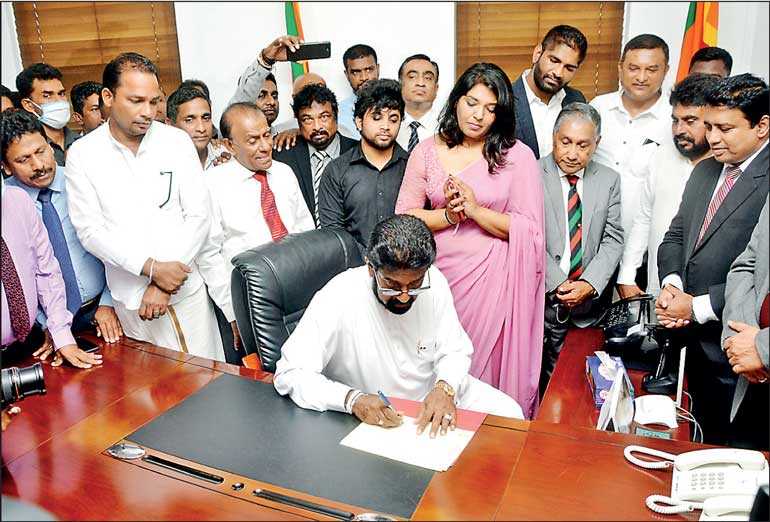 Newly-appointed Mass Media Minister Keheliya Rambukwella assumed duties yesterday at the Ministry – Pic by Upul Abayasekara
---
Expresses keenness to strengthen competitiveness among State media
Says State ministerial portfolios empowered to serve specific target to develop economy
Assures smooth functioning of RTI Commission to ensure public access to accurate information
By Nuwan Senarathna

Newly-appointed Media Minister Keheliya Rambukwella yesterday said the Government would take measures to uphold media freedom, while strengthening the competitiveness among State media organisations.

He made these remarks after assuming duties at the Media Ministry in Colombo. Rambukwella said the administration under President Rajapaksa was committed to uphold democratic rights of freedom of speech and provide space for the public to express their views.

"I do not even want to use the words 'media suppression'. I will take necessary measures to protect freedom of speech. I also look forward to enhance the competitiveness in State media organisations and provide space for the public to express their views freely," he said.

Noting that many were inquiring about State ministerial portfolios, he clarified that State ministers were empowered to serve specific targets aimed at developing the economy at large.

The Media Minister also pointed out that the Government was looking at key areas to develop the economy. "The Government is focused on two key areas – increase investments by enhancing domestic production and improve export-oriented industries to increase forex inflow, which will be beneficial for the country's trade balance," he added.

The Media Minister assured that the Government would continue the smooth functioning of the Right to Information (RTI) Commission to protect the public's right to obtain and access accurate information.

"The RTI Commission will continue and we have always been transparent even before the RTI was brought in. I can assure the right and the freedom of the public to know the truth will be protected," he said.