Says Presidential Polls best way to resolve dispute between Executive and Legislature
JO deviates from earlier demand for General Election
JO to meet next week to discuss impasse between President and Cabinet over PSC
By Nuwan Senarathna

Changing track, the Joint Opposition (JO) yesterday called for an early Presidential Election, insisting that only such a move could resolve the dispute that has arisen between the President and Parliament.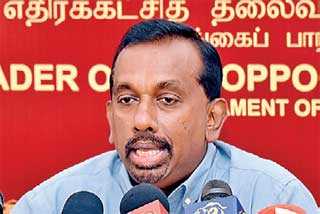 MP Mahindananda Aluthgamage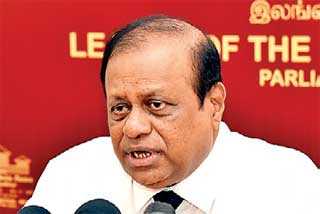 MP Susil Premajayantha - Pix by Ruwan Walpola
Previously, the JO called for a General Election or Provincial Council Election to be held prior to a Presidential Election. However, following the disagreement between the President and the Speaker over the Parliamentary Select Committee (PSC) to investigate into the Easter Sunday suicide bombings, the JO acknowledged they had changed their stance on the Presidential Election.

The change came following a meeting led by Opposition leader Mahinda Rajapaksa, and included former Economic Development Minister Basil Rajapaksa, Sri Lanka Podujana Peramuna Prof. G.L. Peiris, and United People's Freedom Alliance (UPFA) MP Dinesh Gunawardena.

Speaking to media at the Opposition Leader's office, MP Susil Premajayantha said the meeting had taken place on Tuesday evening, with JO leaders deciding to change their previous campaign of a General Election to a Presidential Election, given the recent developments between the President and the Cabinet.

"This is a fight within the Government, we do not see this as a fight between the Executive and the Legislature, as we are also a part of the Legislature. As a responsible Opposition, we have to look for ways to ease this situation and restore normalcy in the country, therefore we think a Presidential Election is the only way to do that," Premajayantha said. He pointed out that it will not be possible to hold a Provincial Council Election as the delimitation process is yet to be completed. He also said that as the 19th Amendment says Parliament cannot be dissolved for four-and-a--half years, a General Election was not feasible. Therefore the only option is a Presidential Election, Premajayantha acknowledged.

However, Premajayantha said if the Government presents a Resolution to hold a General Election, the JO would vote in favour of it. He pointed out that given the situation, they expect the Government will present a Resolution to hold General Elections.

He said the special JO group meeting will be held next week, to discuss ways to improve the situation of the country, and resolve the disagreement between the President and Cabinet members.

President Maithripala Sirisena called an emergency Cabinet meeting on Friday night, where an incensed Sirisena told the Cabinet he will not cooperate with PSC proceedings, saying serving defence and security officials will not be allowed to testify before the Committee.

However, following the President's statement, Speaker Karu Jayasuriya stated on Saturday that those called before PSC have to testify or face legal consequences. As a result, the weekly Cabinet meeting was not held on Tuesday.