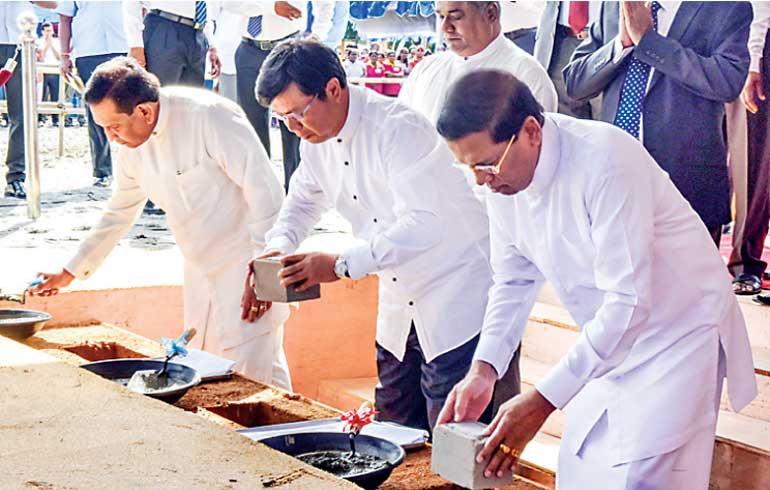 President Maithripala Sirisena yesterday laid the foundation stone for the National Nephrology Specialised Hospital in Polonnaruwa, gifted by China, to be constructed at a cost of Rs. 12 billion.

The hospital is Asia's largest kidney hospital. It will be built at 28th Post, closed to the Polonnaruwa General Hospital.

The hospital will not only serve kidney patients in the North Central Province but those from across the country. The facilities of the hospital include kidney transplant surgeries, blood dialysis services, clinical services, laboratory services and counselling services. The hospital consists of a Basic Treatment Unit, Out Patients' Department, wards with 200 beds to treat residential patients, 100 blood dialysis beds, surgeries with modern technology, two Intensive Care Units and a blood bank.

Speaking at the occasion, the President said the international cooperation and friendship earned by the country would be fully used to achieve the development goals of Sri Lanka. "Throughout the last three years I succeeded in winning international cooperation which had not been earned by the country in the recent past. Hence there had been a major threat to the development and future of the country. The international recognition for our motherland was well evident during my state visits," the President said.

"Though some groups are disgracing the current Government, a huge transformation has occurred in the development of our country today. The sectors of agriculture, education, health and drinking water are in comprehensive development now," he said.

The President recalled the assistance given by the Chinese Government as a friendly state. He thanked the Chinese Government for this special gift offered to Sri Lanka as a result of the discussions he had with Chinese President Xi Jinping in 2015 in China.

Minister Rajitha Senaratne, Deputy Minister Faizal Kasim, Secretary to the Health Ministry Janaka Sugathadasa, Director General of Health Dr. Anil Jasinghe, Polonnaruwa General Hospital Director Dr. Indika Sampath Kumara and the Ambassador of China to Sri Lanka Yi Xianliang were among those present at the event.

President Sirisena also laid the foundation stone for the Trauma Treatment Complex to be built at the Polonnaruwa General Hospital. This will consist of a rheumatic and rehabilitation unit, physiotherapy unit and rheumatic and nerve medical unit. This is to be built in 548 days at a cost of Rs. 400 million under the Pibidemu Polonnaruwa District Development Program.

After unveiling the plaque, the President observed the plan for the complex. The Director of the Polonnaruwa General Hospital Dr. Kumara was also present at this occasion.