Historic moment, says popular UNP politician
Unfolding before the eyes of a nation is an unprecedented sequence of events, and a historic moment in Sri Lanka's post-independence era, said former UNP Parliamentarian and leading light of the party, Imthiaz Bakeer Markar, in reaction to the constitutional crisis that entered its sixth day after President Maithripala Sirisena sought to sack his Prime Minister last Friday.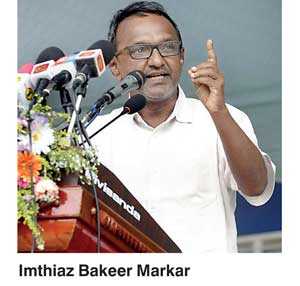 Issuing a statement, Bakeer Markar said that Sri Lanka has had universal suffrage since 1931 to elect its representatives in Government, making the country one of the oldest democracies in Asia. While many countries over this time have had coups, dictatorships, and constitutional breakdowns, Sri Lanka, in spite of the Cold War, multiple youth insurrections, and a 30-year war, has managed to govern itself with respect to its Constitution, the statement said.

"Without respect to a constitution to govern a country, the oppression shall rule over the people. As a nation, we have a moral obligation to unite, in order to establish justice and good governance, and protect our constitution," he said.

Bakeer Markar said he had no doubt that the Speaker would reconvene Parliament and allow the duly elected representatives of the people of Sri Lanka to decide who commands the majority of the House.

"Sri Lanka has been a beacon of light in cherishing and upholding democracy in the region," he noted, urging all Sri Lankans to rise up to the moment and reject any act of violence and acts that undermine and hinder our democracy.