Ranil says if Government implemented a broader PCR testing regime, SLPP wouldn't have had to postpone their key rallies this week
Claims Health Minister had failed to maintain transparency of funds released by EU, international donors to aid contain spread of COVID-19
---
By Asiri Fernando
---
The United National Party (UNP) yesterday said that the Government should take an early decision if the upcoming General Elections should be postponed due to the prevailing situation with the COVID-19 outbreak.

"The Government should take a decision early in consultation with the Election Commission and health authorities, and inform all parties and the public if the elections are to be postponed," said UNP Leader and former Prime Minister Ranil Wickremesinghe.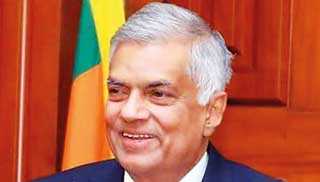 UNP Leader Ranil Wickremesinghe
---
Speaking at an election meeting in Kandy yesterday, Wickremesinghe charged that the Government should take responsibility for the sudden surge of COVID-19 patients and potential second wave with 94 persons testing positive for the virus from the Kandakadu cluster yesterday.

Had the Government implemented a broader testing regime, the SLPP wouldn't have had to postpone their key rallies this week, he added in jest.

Wickremesinghe charged that the Government had failed to conduct adequate testing which the UNP and others, including some medical professional groups, called for early on in the outbreak. "We, as a responsible Opposition, supported the Government efforts, but they didn't heed calls for increased testing, which may have prevented this second outbreak had it been carried out," he stated.

The UNP Leader also questioned the Government on the lack of transparency of funds released by the European Union and the other international donors to aid the Sri Lankan counter-COVID-19 efforts.

Wickremesinghe charged that the Health Minister had failed to disclose what the funds were used for.