Panel discussion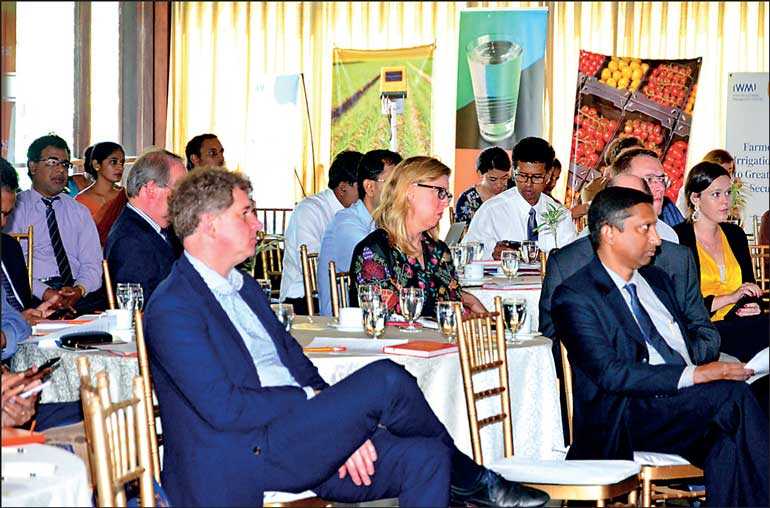 ---
"This is the time, more than ever, when we must bundle together our knowledge, share successes, mistakes, and find opportunities for sustainability," said Netherlands Ambassador to Sri Lanka Tanja Gonggrijp.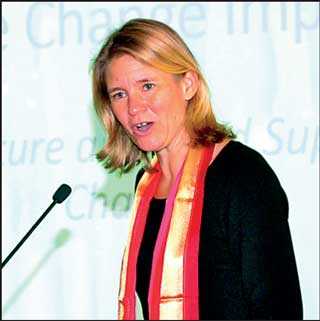 Ambassador HE Tanja Gonggrijp delivering the opening remarks


The Ambassador's remarks opened a forum co-hosted by the Colombo-headquartered International Water Management Institute (IWMI) and the Netherlands Embassy, on 28 November in Colombo. The event brought together scientists, diplomats, Government officials, members of the private sector and others to discuss the impact of climate change on agricultural production and the food supply chain.

Ambassador Gonggrijp's remarks set the tone for the day, calling for collaborative action to face one of the most pressing issues for Sri Lanka and the world today. The Global Climate Risk Index lists Sri Lanka second among 176 countries most affected from extreme weather events in 2017.

Frequent droughts and floods have had a major impact on the agriculture sector, and rural producers are among the most vulnerable to climate-induced weather events. The impacts don't just end with rural producers, but also extend to urban consumers.

Following the remarks by IWMI's Country Manager Dr. Simon Langan and Ministry of Mahaweli and Environment former Secretary Anura Dissanayake, Prof. Buddhi Marambe delivered the keynote.

"The level of resilience in Sri Lanka is declining," said Prof. Marambe. "The impact on agriculture is serious; productivity could go down by 10-15% in the years 2030 – 2050. This may seem a long way ahead, but we need to take action now to adapt to this eventuality."

The topic of adaptation in agriculture continued through a discussion among representatives from the Ministry of Agriculture, IWMI and Oxfam. Research shows that Sri Lanka's mean temperature is gradually increasing, while the mean annual rainfall will show high variability. At the heart of these changes are the farmers, and consequently the nation's food security. The panel argued that traditional agricultural patterns must adapt and farmers will need adequate support, not only to face temperature and water variability, but also increases in disease and potential losses.

Solutions will also need to consider farmer access to finances and weather-based insurance, especially women smallholders who are most vulnerable to risk. The Ministry of Agriculture was reported to be working on developing solutions to support both farmers and consumers, including cultivation and crops, research and development (R&D), pricing and distribution. The discussion highlighted the need for greater investment in scalable solutions, R&D and robust Private-Public Partnerships in the agricultural sector.

Food production, in times of surplus or scarcity, needs careful consideration in adapting to climate change, especially in terms of storage, transport and value addition. In a second panel discussion, participants highlighted the impact on biodiversity, which in turn effects the quality of crops.

"In the tea industry, for example, most of the impact is faced by private enterprises," says S. Yasaratne of Biodiversity Sri Lanka, Chamber of Commerce. "However, there is little consultation with the private sector in discussions concerning policies on adaptation. We have worked with IWMI to support the plantation sector in this regard. Our collective discussions on adaptation policy must include strategic environmental assessments to ensure all aspects are looked into."

M.A. Junaid of CBL Natural Foods echoed the need for timely information, especially to plan processing, pricing structures and supply. Technologies to help farmers with irrigation and water stresses are available, but farmers also need this support at the right time.

Members on a final panel discussed issues around post- harvest, waste and its impact on the value chain. "It's not a simple matter of storage; we really must consider the post-harvest protocols that need to be followed, from storage to transport and value addition," said Samudra Rajapakshe of Hayleys Agriculture Holdings.

Participants argued that investing in pragmatic technologies at both farm and retail levels may help both pricing and waste. At the Manning Market in Colombo, for instance, tons of produce are thrown away each day during rainy seasons – a result of the lack of proper storage facilities. Technologies that not only preserve produce but also its nutrition have to be practically feasible across the value-chain.

The program ended with a business case for indoor vertical farms presented by Urban Agri Ltd. Acknowledging the diversity of the stakeholders and their perspectives, IWMI's Dr. Langan and Sellahewa of the Netherlands Embassy closed the event by calling for continued collaboration on solutions – the business case for sustainability – as Sri Lanka's agriculture sector prepares to adapt to climate change.