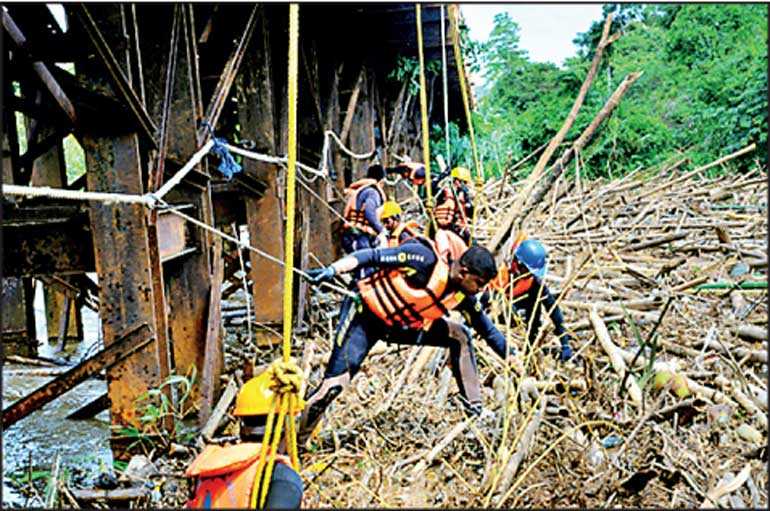 Navy clearance divers and rescue teams work to clear debris clogging up Gin Ganga near Wakwella Bridge yesterday
Rains to continue in Western, Sabaragamuwa, Central and North-Western Provinces
Landslide warnings remain for Ratnapura
Navy clears debris blocking water flow near Wakwella Bridge
Rains will continue for at least four provinces and several districts today as well though cyclone impact has now completely receded, the Meteorological Department said yesterday, but people living near landslide areas have been asked to remain vigilant.

The National Building Research Organisation (NBRO) also said landslide warnings remain for the district of Ratnapura.

According to the NBRO, Ayagama, Elapatha, Kalawana, Kiriella, Openayake, Balangodal, Kuruwita, Eheliyagoda, Pelmadulla, and Nivithigala Divisional Secretariats and surrounding areas are at high risk of landslides. "People living in landslide susceptible areas should be extra vigilant and should be ready to move quickly to safe places if heavy rain continues," NBRO said, issuing a Level 3 Red (highest level) warning for landslides.

According to the Metrological Department, showers will occur in some parts of the Western, Sabaragamuwa, Central and North-Western provinces as well as in the districts of Galle and Matara. Wind speed can increase up to 40 kmph at times over the island, the Met department added.

NBRO and the Disaster Management Centre (DMC) urged the public to take preventive measures to avoid lightning and rain induced injuries and damages to property.

The Navy dispatched a team of clearance divers along with other naval personnel attached to the Southern Naval Command to remove logs and debris which had collected beneath the Wakwella Bridge, which runs over the Gin Ganga in Galle.

The debris, which have washed downstream due to heavy rainfall had collected near the bridge, clogging up at the bridge supports and causing a bottle neck which prevented rain water from flowing down stream and inundated both river banks raising the risk of flooding.

The Navy has also deployed specialised rescue and relief teams to assist communities in areas at risk of flooding.