695 new COVID-19 patients detected
COVID death toll reaches 255 with four new casualties
6,790 remain in quarantine centres, 645 Lankans repatriated
---
By Asiri Fernando
---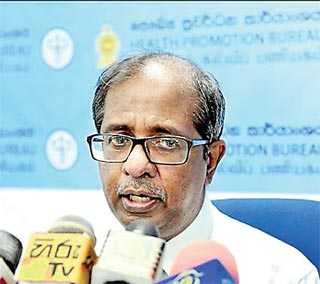 Chief Epidemiologist Dr. Sudath Samaraweera
---
Four patients succumbed to COVID-19 yesterday as health authorities urged the public not to fear the PCR and antigen testing processes to detect infected persons and renewed denials of community spread.

Chief Epidemiologist Dr. Sudath Samaraweera told reporters that medical authorities have noted some members of the public are fearful of being subjected to the COVID-19 testing process. He urged the public to take part in the PCR and rapid antigen testing processes to better map and contain the spread of the virus. Dr. Samaraweera downplayed fears of community spread of the virus, stating that there was no evidence to support such a claim.

Six hundred and ninety-five persons tested positive for COVID-19 yesterday, with all patients being contacts of the Peliyagoda Fish Market cluster, the National Operations Centre for the Prevention of COVID-19 (NOCPC) said.

According to the Department of the Government Information, yesterday's count of 695 pushes the total number of confirmed COVID-19 patients to 51,594, of which 47,425 are from the Peliyagoda Fish Market and Minuwangoda clusters.

A total of 7,080 infected patients remain under treatment at 68 hospitals and treatment centres, with the highest number of patients being 558 at the Punani Treatment Centre, the Epidemiology Unit of the Ministry of Health said. As of last morning, 44,259 patients had recovered out of the total of 51,594 infected patients reported.

According to the NOCPC, 6,790 persons are undergoing the mandatory quarantine program at 81 quarantine centres managed by the armed forces. A total of 14,565 PCR tests had been conducted on Thursday. Five hundred and twelve patients who recovered had been discharged from treatment and returned home yesterday, the NOCPC added.

According to Dr. Samaraweera, more than 1.4 million PCR tests have been conducted up to now by Government laboratories, private medical laboratories and university testing facilities.

A total of 645 Sri Lankans were repatriated from the Middle East, South Korea and the Maldives yesterday, the NOCPC said. All repatriated persons were moved to quarantine centres after being subjected to PCR tests at the airport.