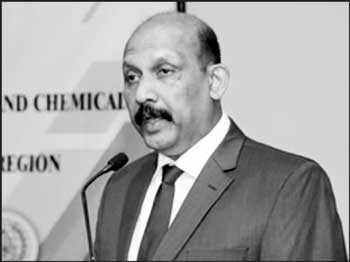 The Government has established a National Authority under the Defence Ministry to ensure safe use of scheduled chemicals in the industrial sector without hindering their proper functioning, Defence Ministry Secretary Maj. Gen.(Rtd) Kamal Gunaratne said.

He said Sri Lanka had already implemented the Chemical Weapons Convention (CWC) in Sri Lankan through an Act passed by the Parliament in 2007 and had a proper system of implementing the Convention mainly through the National Authority that was functioning under the Ministry of Defence.

The Defence Secretary attended the opening session as the Chief Guest of the three-day seminar – the Chemical Weapons Convention and Chemical Safety and Security Management for Member States of the Organization for the Prohibition of Chemical Weapons in the Asian Region, held at the Galle Face Hotel in Colombo, recently. He said the Defence Ministry had facilitated the industry needs while ensuring the effective implementation of the CWC.

"Elimination of chemicals used in non-peaceful means is a responsibility of all. Despite of all the precautions taken, there are incidents where chemicals are being used in mass destruction. The implementation of a sound chemical management is found to be of prime importance," he said.

The three-day conference, which was aimed to raise awareness of the importance of CWC and chemical safety and security policy and guidelines to prevent chemical accidents and the potential misuse of toxic chemicals in the Asian region.

The National Authority for implementation of the Chemical Weapons Convention is under the purview of Defence Ministry.

National Authority Director C.W.C. Edirisinghe, Defence Ministry Additional Secretary Anuradha Wijekoon, Director General of United Nations and Human Rights at Ministry of Foreign Affairs, M.R.K. Lenagala, senior ministry officials, Military Liaison Officer, Fire Chief of Colombo Fire Service Department, Chief of National intelligence and distinguished invitees were also present at the inaugural session.