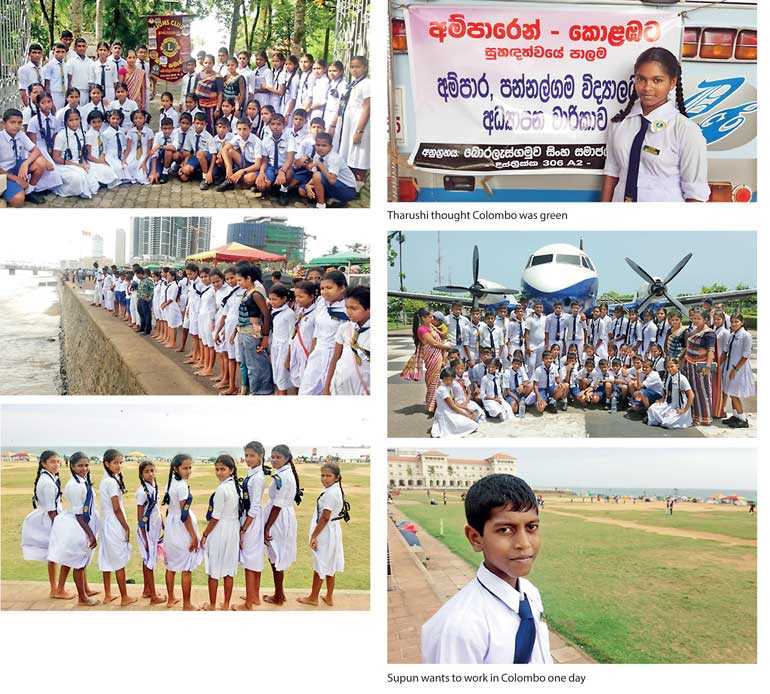 Standing on the deck that stretches a little beyond the beach of the Colombo Galle Face Green, the teenage girl clad in a school uniform had spotted a crow which was struggling to fly against the windy breeze. Strong waves hit the concrete deck, spraying sea water on her and her classmates, who were enjoying the scenic beauty of the Green with the newly-reclaimed land of the upcoming Port City project in the backdrop. The clear blue sky was adorned with colourful Chinese-made kites in different shapes.

The faded white uniforms, with stains and patches, were the 'cleanest' outfits that they could think of wearing on their first-ever trip to Colombo.

"This is the first time I have seen the beach, the ocean, the huge sky kissing buildings and so many fashionable people," 14-year-old Tharushi Dananjana said excitedly.

She wondered whether there would be a party at the Green as the ground was full of people. "I have never seen such a lot of people gathered at a ground," she said, while pointing at a pony which gives rides.

It was a memorable day for the children of Pannalgama Secondary School in Ampara, with several of them having received the opportunity to tour the capital Colombo, , which most of them have only seen in pictures.

"When I was small, I thought Colombo was green because it says 'Kolamba' in Sinhalese. But when my sister showed me some pictures, I started visualising Colombo as a city with huge buildings and many amazing things," Tharushi said, recalling their visit to the National Zoological Gardens on the first day of their journey.

Except her elder sister who had come to the Colombo General Hospital with her sick child, no one in her family had ever come to Colombo.

The educational tour 'From Ampara to Colombo' organised by the District 306 A2, Lions Club of Boralesgamuwa facilitated 42 students of the Pannalgama Secondary School to spend two days in Colombo to visit the National Zoological Gardens, Sri Lanka Radio Corporation, Sri Lanka Air Force Aviation Museum, National Museum and the Galle Face Green.

There are nearly 600 families in Pannalgama, which was one of the border villages in Ampara during the war. Some of the villagers were killed by the LTTE and the children had spent nights in the nearby forests.

"Once a student who had stolen Rs. 30 from another student was brought to me. He started crying in front of me. When I asked why he had stolen that money he said, 'Madam, my younger sister and brother and I have not had anything from yesterday morning. I stole Rs. 30 to buy a biscuit packet to give them when I go home.' How can I punish him?" School Principal Nandani Perera said, explaining the situation of the poverty-stricken families in the village.

Most of the families in Pannalgama village eke out a living as small-scale farmers, vegetable growers and fishermen or work in the Civil Defence Force. Some work as labourers in construction sites in other towns as they are unable to earn from farming due to the prevailing drought in Ampara.

"We have very talented students and a set of dedicated teachers in the school. Some of them are studying while helping their parents in their small cultivations. The families in the village suffered physically, financially and mentally during the war. As small kids they had to live in jungles in fear of terrorists," she said.

Maj. General Mahinda Mudalige, General Officer Commanding of the 24 Division of Ampara, who coordinated the program with the Lions Club of Boralesgamuwa, had requested the children to continue with their studies despite challenges in life. "We will continue to find Sri Lankans to help you all," he said.

The immediate past District Governor 306 A2 Widyakeerthi Dissanayake said that Lions Clubs were always helping the needy to make a change in the society.

"There are no divisions when it comes to challenges to overcome poverty. Whether it be a remote school in the north or the south, all those children have to face the same challenges in education. What is needed in this country now is overcoming those challenges and becoming successful in life through education," he said.

Dissanayake said that the Lions Clubs intended to see a change through helping students in their education and the Lions Club of Boralesgamuwa had set an example to other clubs by lending a helping hand to the children from underprivileged families.

"As Lions, we will continue to implement projects to create a bridge to connect the south and the north. Next time, we hope to carry out a similar program for the needy children in the north," Lions Club of Boralesgamuwa President Ruvini Dissanayake said.

Supun Dilsha, a grade 8 student, was very happy with the new pair of shoes he had just received. He had been dreaming of seeing Colombo since his father's first visit to the capital, some time ago. "My father is a farmer. He promised me that he would take me to Colombo one day when he is able to save some money. Some of my friends told me Colombo has very tall buildings and nice places to play," he said, while at the Air Force Museum, where they had their first experience of being inside an aeroplane.

Supun said he felt that children in Colombo were lucky as they didn't have to drive for eight to nine hours to see places in Colombo.

Seeing how the engineers were constructing bridges in their villages, Supun aspires to become an engineer one day.

The 42 students were not sent home empty-handed but given stationery, school bags and story books. They were selected based on their performance in class, of out a total of 234 students in the school. They were also given Rs. 1,000 each by a donor who wished to remain anonymous. The donor had also promised to develop their music room and chosen to sponsor the education of 11-year-old D. Prarthana, whose father is sick. The child also has two elder brothers who are differently-abled.

Another two youth who donated shoes to the students promised to sponsor the necessary sports items for the school.

A small effort or a gift can make a big difference in one's life. While people who are born with money and power spend huge amounts of money for a moment of enjoyment, a few thousands of rupees or some small gifts can bring smiles to students who are struggling to continue with their education.

Supun and Tharushi, who dream of becoming lawyers, want to work in Colombo one day.

"We are very happy to be in Colombo for two days. Our friends who couldn't get selected to come to Colombo requested us to bring them something from Colombo," Tharushi said, showing a small flower basket she bought from a street vendor at Galle Face Green just before they departed for Ampara.