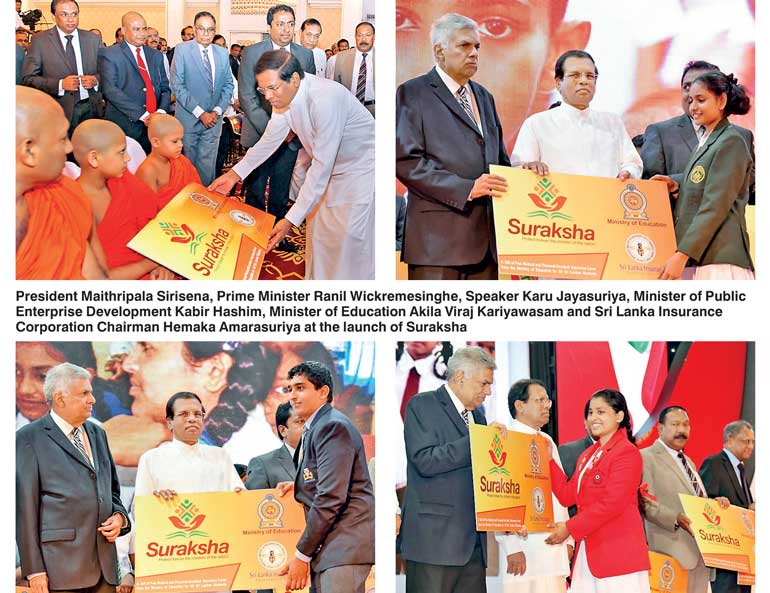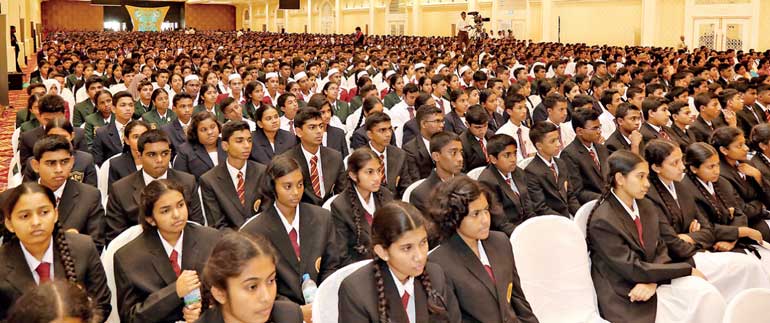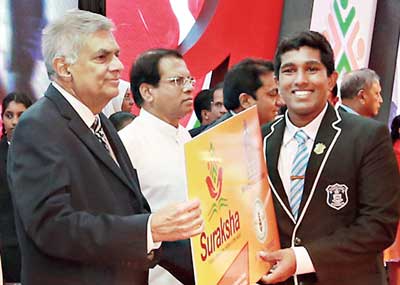 Marking a new landmark in the history of education in Sri Lanka, the Sri Lankan Government launched free medical and personal accident cover for all schoolchildren of the country under the patronage of President Maithripala Sirisena, Prime Minister Ranil Wickremesinghe, Minister of Education Akila Viraj Kariyawasam, Minister of Public Enterprise Development Kabir Hashim, Sri Lanka Insurance Corporation Chairman Hemaka Amarasuriya and many other dignitaries yesterday at Temple Trees.

The unique Suraksha scheme, a brainchild of Kariyawasam, is a gift of free medical and personal accident cover open to all Sri Lankan schoolchildren. The insurance scheme is facilitated through the country's strongest and largest insurer, Sri Lanka Insurance Corporation, and the service will be offered through its extensive network of 150 branches island-wide. The scheme will cover 4.5 million schoolchildren from all walks of life in government, private and international schools and will also be extended to venerable student priests engaged in pirivena education.

Under the Suraksha scheme, each schoolchild will receive an insurance cover of around Rs. 400,000 including hospitalisation cover worth Rs. 200,000. The benefits that will be available through the scheme include Rs. 10,000 as reimbursement of OPD medical bills, Rs. 100,000 to be paid upon the sudden death of the policyholder or Rs. 75,000 to be paid upon the death of a parent and Rs. 100,000 and Rs. 50,000 respectively to be paid for the full or partial disability of the child.

Suraksha policyholders will also be entitled to additional benefits such as discounts on hospitalisation, discounts on consultants' fees, etc.

The illnesses and procedures covered under the policy include cancer, renal failure, primary pulmonary arterial hypertension, multiple sclerosis, major organ transplantation, coronary artery (by-pass) surgery, surgery-aorta, heart valve replacement, stroke, myocardial infarction, heart attack, coma, blindness and paralysis.

Sri Lanka Insurance Corporation Chairman Amarasuriya said Sri Lanka Insurance has been at the forefront when it comes to projects involving the holistic development of the country's children, be it with sports, academics or art. He also stated that Sri Lanka Insurance will support the cause comprehensively under the leadership of General Insurance Deputy General Manager Thanuja Hingulage.

Launched under the theme 'Forever protect the children of the nation', the Suraksha Insurance Scheme will assist both the physical and mental wellbeing of all Sri Lankan children by ensuring financial assistance in case of illnesses, accidents and disabilities both in and out of school, ensuring the uninterrupted education of children.