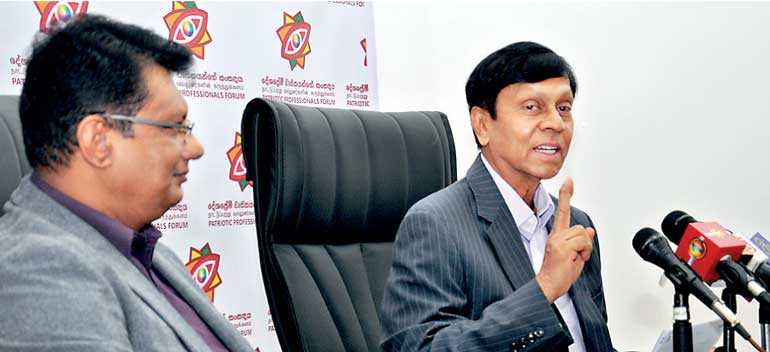 Former Central Bank Governor Ajith Nivard Cabraal addressing the media yesterday as former SEC Chairman Nalaka Godahewa looks on – Pic by Sameera Wijesinghe
By Ruwandi Gamage

Former Central Bank Governor Ajith Nivard Cabraal yesterday called for immediate action to stabilise the rupee by bringing in new policy changes and protecting existing foreign investments.

"The Government, Central Bank and all policymakers should be held responsible for the current economic situation of the country," he said at a media briefing organised by the Patriotic Professionals Forum yesterday.

Cabraal further stated that the rupee would depreciate further if any policy of value was not immediately brought into effect.

"There isn't a single policy of value that has taken effect yet. We took the right policy changes while in power, which led to the rupee being stable even during the global economic crisis of 2007-2009. The Zimbabwe Dollar is doing better than the Sri Lankan Rupee," Cabraal said.

Charging that the Prime Minister's remarks about the country's economy were affecting foreign investment, Cabraal detailed existing investments and the future of foreign investments.

"The prime minister of a country is expected to make changes and prevent economic crises, not complain about the current status. This has resulted in existing foreign investors pulling out of the stock market and the bond market and selling their securities and shares. This is one of the main reasons for the rupee depreciation. We can't bring in new investments to the country without protecting existing investments," he said.

Cabraal also indicated that business confidence levels were the lowest they had been in history, leading to an increase in Non-Performing Loans (NPLs), further escalating the rupee depreciation and economic crisis.

"The recent restrictions brought about on small business owners and entrepreneurs are not healthy to the value of the rupee or to the economy. Economic growth is affected when we restrict businesses," Cabraal said, commenting on vehicle permit restrictions and other import restrictions made by the Government recently.

Meanwhile, former Securities Exchange Commission (SEC) Chairman Nalaka Godahewa also addressing the press conference charged that Prime Minister Ranil Wickremesinghe had been complaining about a global economic crisis, seemingly in an attempt to show the public that the current economic problems were due to external factors, adding that this was not the case.