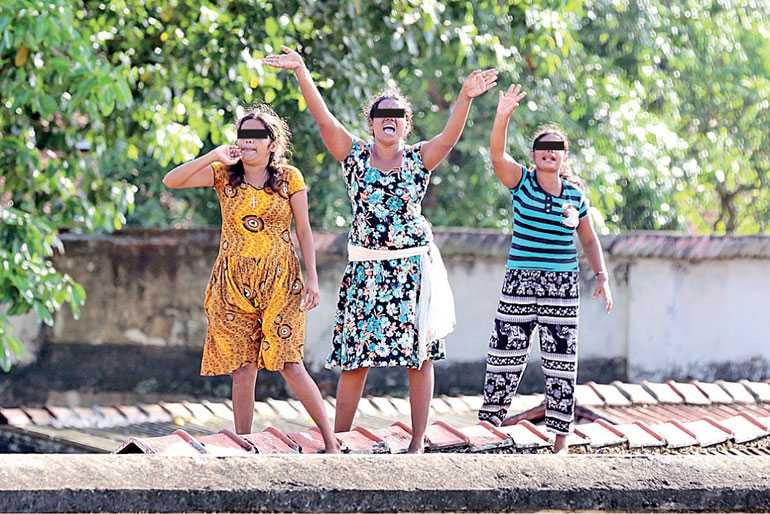 Female prisoners protest by climbing onto the roof of Welikada Prison yesterday – Pic by Lahiru Harshana
By Chathuri Dissanayake

The protest by a group of female inmates who climbed onto the Welikada prison roof last afternoon ended in violence, with eight prison officers and three prisoners sustaining injuries when the detainees attacked jailors who attempted to break up the demonstration.

"When a team of jailors went to the location of the protest to disperse the crowd, the protesters, about 10 on the roof and the rest on the ground, attacked the officers with pellets. The officials were able to bring the situation under control after about two hours, but eight jailors were injured," Justice Ministry spokesperson Nalin Rajapaksha told Daily FT.

The Prison officials have taken steps to transfer 52 inmates held at Welikada Prison to other prisons following the incident.

"The protest started in the afternoon, demanding that one prisoner who has been transferred to another prison recently be returned to Welikada Prison again," he said.

The latest incident follows a series of protests and demonstrations held by a group of female inmates last week. However, the group protesting last week abandoned their action after a meeting with officials late last week.

The reasons for the protests were not immediately clear, however, according to statements by the Justice Ministry, the inmates had raised concerns over suspension of privileges enjoyed by them over a period of time, including access to outside food. It was also reported that female inmates were unhappy about the transfer of a single female prison official responsible for them and demanded cancellation of her transfer. The transfer was one of a series made by the line ministry in cracking down the drug network operating from within Welikada Prison and Subject Minister Thalatha Athukorala publicly refused to reverse any decision taken.

According to some media reports, the inmates have also demanded a solution to delays in hearing their cases.