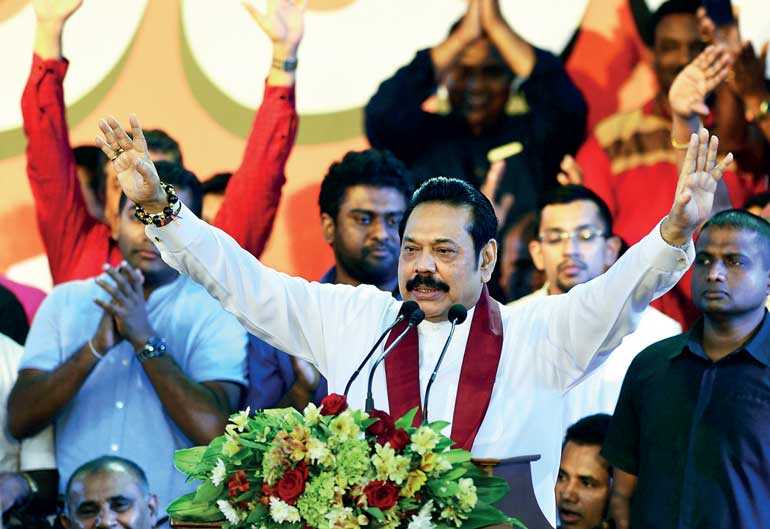 Former President and new Prime Minister Mahinda Rajapaksa waves to his supporters at a rally in Colombo on 5 November. Thousands of supporters of former President Mahinda Rajapaksa headed for the capital on 5 November to rally in support of his controversial nomination as Prime Minister, as the island's constitutional crisis deepened

– AFP/File photo
AFP: Having crushed the Tamil Tigers' rebellion, ex-President and skilled political operator Mahinda Rajapaksa is nothing short of a messiah for many Sri Lankans. But ahead of his possible second coming, others are full of dread.

The moustachioed and charismatic Rajapaksa came roaring back into national life last month when he was appointed prime minister, triggering a constitutional crisis as the sacked incumbent refused to budge.

As President for a decade until 2015, Rajapaksa is hero to the island's Sinhalese majority for ending a 37-year Civil War by crushing the bloody guerrilla campaign for a separate State.

"We are grateful to him for ending the war so that we can live without the fear of bombs going off in Colombo," said Nimali Fernando, a resident of the commercial capital.

"You are the father of our nation," wrote Shehan Udayanga, one of 1.3 million followers of Rajapaksa, 72, on Facebook. "People are with you," wrote Buddhist monk Dhammika Krathota.

But allegations that at least 40,000 ethnic Tamils were massacred triggered international outrage and also hatred among Tamils, who make up around 11% of the 21 million population.

So Rajapaksa's possible makes many Tamils sick to the stomach.

At a Hindu temple in Colombo, Tamil devotees celebrating the Hindu festival of Diwali this week – the Sinhalese are Buddhist – were too scared to even talk about it, fearing reprisals if they do.

But off camera, a Tamil business executive from the eastern district of Batticaloa said he feared the return of "white vans", a reference to a culture of abductions under Rajapaksa.

"We are very afraid that Mahinda will return," he said, asking not to be named. A Tamil journalist, also preferring to stay anonymous, said he feared freedom of movement would be restricted again.

Tamil lawmaker Dharmalingam Sithadthan told AFP his constituents in the community's heartland of Jaffna remember all too well the repression they suffered.

"There is concern that his return will be bad for them," Sithadthan said.

The International Crisis Group warned that the situation for Tamils will worsen under Rajapaksa.

"Tamil activists and journalists, who already face intense police and military surveillance, as well as threats of violence, will be at risk of increased harassment or worse," ICG said in a report.

"So too will critics of the Rajapaksa family and dissenters throughout the country."
Golden charm
Rajapaksa projects himself as a son of the soil committed to conservative Buddhist values and shunning Western culture, always in traditional Sinhalese national dress – a white sarong, a long white shirt with a trademark maroon shawl.

As a strong believer in astrology, he wears gem-studded rings, bracelets and blessed strands of thread. Instead of a mobile phone he always holds a golden good-luck charm – all making him a hit with the Sinhalese.

The prospect of a comeback by Rajapaksa, who is also accused of using his time in power to line his and his family's pockets while saddling Sri Lanka with Chinese debt, is a remarkable turn of events.

His political career seemed in ruins three years ago after a shock defeat to Maithripala Sirisena in Presidential elections as Tamil and Muslim voters turned away.

The two men remained sworn enemies until two weeks ago when Sirisena dramatically sacked Prime Minister Ranil Wickremesinghe and appointed Rajapaksa in his place, plunging Sri Lanka into crisis.

Rajapaksa is yet to prove his majority in Parliament, which Sirisena shut for 20 days to prevent Wickremesinghe from challenging his sacking and proving he still enjoyed a majority.

As both sides wait for Parliament to reopen on 14 November, Rajapaksa has wasted little time, calling a rally of tens of thousands of supporters and cutting taxes on fuel and other staples.

"Mahinda (Rajapaksa) is the most charismatic leader since independence," said a former aide Kusal Perera. "He appeals to the Sinhala-Buddhist psyche like no other."
Bugged phones
Tamils are not the only ones worried.

During Rajapaksa's decade in power, at least 17 journalists and media workers were killed – no one was ever prosecuted during his tenure.

Now many independent journalists have switched to speaking only on secure internet-based communications apps such as WhatsApp and Viber, fearing that phone surveillance had resumed.

"Journalists no longer discuss sensitive subjects on normal mobile phones," an editor of a national daily said. "There is unease, a fear that we are going back to the bad old days." According to Reporters without Borders (RSF), Rajapaksa supporters stormed State-owned media institutions shortly after his appointment last month, roughing up Ministers and journalists who then had to be rescued by police commandos.

The Paris-based RSF said this recalls the darkest hours of Rajapaksa's Presidency.

"The violence with which Mahinda Rajapaksa's bully boys took over the State media is absolutely unacceptable," RSF's Daniel Bastard said in a statement.