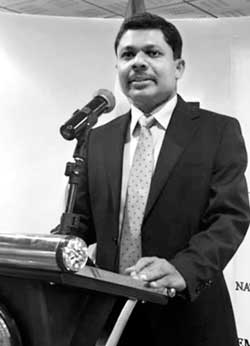 The Embassy of Sri Lanka in Ethiopia celebrated Sri Lanka's 70th anniversary of Independence with an official flag hoisting ceremony held in the morning of 4 February 2018 at the Ambassador's residence, followed by an evening reception on 6 February at Hotel Hilton, Addis Ababa.

The official ceremony on Sunday morning was held with the participation of the SAARC Ambassadors, members of the Sri Lankan community and well-wishers. The event commenced with the hoisting of the national flag by Ambassador Sumith Dassanayake. The program included a rendition of the national anthem both in Sinhala and Tamil, followed by two minutes' silence in remembrance of all who sacrificed their lives for the nation and lighting of the oil lamp by the guests. Following the Ambassador's welcome address, the national day messages of President Maithripala Sirisena, Prime Minister Ranil Wickremesinghe and Foreign Minister Tilak Marapana were read out in all three languages.

Tuesday evening's reception was attended by Ambassadors, senior officials of the Ethiopian Government and the African Union Commission, business leaders, members of the Sri Lankan community and media personnel.

Addressing the gathering, Ambassador Dassanayake highlighted the progress made by Sri Lanka over the years in diverse fields, in particular during the last year. The Ambassador also referred to the strengthening of relations between Sri Lanka and Ethiopia and also with the other countries in the African Continent after the establishment of the Embassy of Sri Lanka in Ethiopia, in February 2017. Ambassador also requested Ethiopian, African and other investors to make use of the opportunities available in Sri Lanka for foreign investment. Ambassador Dassanayake also recognised the contribution of the Sri Lankan community in Ethiopia towards Sri Lanka's economic development.

Conveying the greetings of the Government of Ethiopia, Director General of Asia and Oceania Affairs of the Ministry of Foreign Affairs of Ethiopia Tsegab Kebebew said that Ethiopia looks forward to have greater cooperation with Sri Lanka in political, economic, tourism and cultural fields in the near future.

A short video was played at the end of the event depicting Sri Lanka's cultural and tourist attractions.