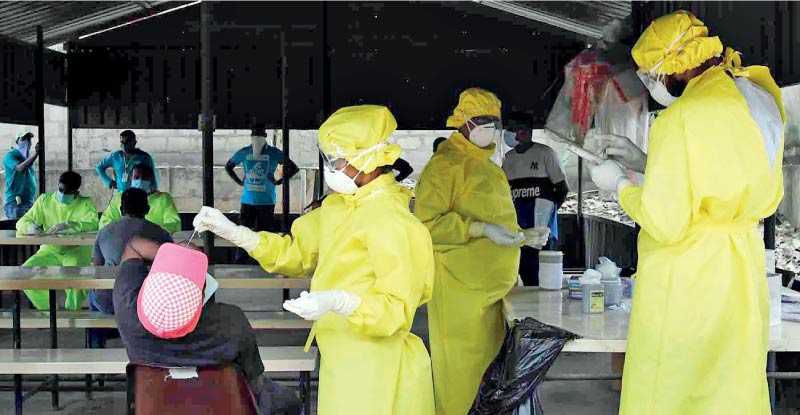 ---
439 persons test positive, total confirmed count rises to 18,841
Rs. 2.3 m allocated by SLIC to provide financial assistance to migrant workers: Labour Minister
Colombo Mayor renews call for lockdown of Colombo Municipal Area
Ambulance and specialist services launched in isolated areas
---
The Divulapitiya and Peliyagoda dual COVID-19 cluster exceeded 15,000 positive cases yesterday, with 439 patients identified within the day.

According to the Department of Government Information, 437 persons are contacts of the Peliyagoda COVID-19 cluster. Having emerged on 4 October, the cluster has expanded to 15,330 cases.

The total COVID-19 cases identified in the island also include 1,493 Sri Lankan returnees from overseas, 950 Navy personnel and their contacts, 651 persons connected to the Kandakadu cluster and 105 foreigners.

The total COVID-19 count currently stands at 18,841, of which 5,673 are currently under medical care at 56 treatment centres. This includes 560 persons at the Punani Treatment Centre, 418 persons at the Bingiriya Treatment Centre, 346 persons at the Neville Fernando Hospital and 315 persons at the Kandakadu Treatment Centre. Hospitals are also monitoring 580 persons suspected of having COVID-19.

According to the Epidemiology Unit, hospitals yesterday discharged 316 persons, bringing the total COVID-19 recoveries to 12,903. Yesterday's recoveries include 53 persons from the Divulapitiya District Hospital, 35 persons from the Neville Fernando Hospital and 28 persons from the Bingiriya Treatment Centre.

The Health Promotion Bureau states that 702,254 PCR tests have been carried out in the island to date, including 10,306 tests on Wednesday.

Meanwhile, the National Operations Centre for the Prevention of COVID-19 Outbreak (NOCPCO) yesterday said that 3,419 persons are currently undergoing quarantine at 33 centres managed by the Sri Lanka Army, Sri Lanka Navy and Sri Lanka Air Force.

The NOCPCO added that 39 persons from Qatar, 30 persons from Oman and 13 persons from Pakistan arrived in the island yesterday, and have been directed for quarantine. NOCPCO Head Lt. Gen. Shavendra Silva yesterday said that five flights are operated on a weekly basis to bring down Sri Lankans residing abroad.

Discussing the measures taken to assist Sri Lankans living abroad, Silva said, "340 Sri Lankans living abroad were brought down to the country [on Wednesday], and steps were taken to bring down 100 persons [yesterday]."

He added that such efforts take place with the knowledge of respective embassies that function under the Foreign Ministry, but that the NOCPCO must also be informed of such efforts. According to Silva, this is due to the fact that the NOCPCO evaluates the country's situation and quarantine facilities in Sri Lanka.

The NOCPCO Head went on to say that persons living abroad are advised to pay only for their flight back to Sri Lanka and to arrange quarantine facilities once they arrive in the island, as opposed to paying for package deals; especially if they opt for paid quarantine.

Meanwhile, Labour Minister Nimal Siripala de Silva yesterday said in Parliament that Rs. 2.3 million has been allocated by the Sri Lanka Insurance Corporation (SLIC) to provide financial relief for migrant workers affected by COVID-19, who require tickets to return to the country or medical care. According to de Silva, 102 requests for financial relief have been made and 49 have been granted. He shared this information in response to questions raised by Samagi Jana Balawegaya (SJB) Member of Parliament Chaminda Wijesiri. The Labour Minister added that there are 816,433 migrant workers and that 68 persons registered with the Sri Lanka Foreign Employment Agency (SLFEA) have died of COVID-19 to date. He added that Rs. 40,000 is allocated per person for religious rites and Rs. 920,000 has been provided to date.

A total of 24 requests for compensation have been made to the SLIC, amounting to Rs. 12 million, of which six requests amounting to Rs. 3 million have been approved.

He added that the dependents of six persons whose registration with the SLFEA had expired by the time of their death had also requested compensation and one such request has been approved.

According to de Silva, 13,181 migrant workers have returned to Sri Lanka, of which 1,617 hope to gain employment in the country, 654 plan to be self-employed, 64 expect further training and 2,163 hope to go abroad once again.

While efforts are ongoing to bring back migrant workers, testing has been ramped up in the Colombo Municipal Area due to a high number of COVID-19 cases. According to the Epidemiology Unit, 6,340 infected persons have been identified from the Colombo District.

Of the 237 COVID-19 cases identified on Wednesday, 157 were from the Colombo District. This includes 67 cases from Colombo 12, 38 cases from Colombo 13 and 13 cases from Maradana.

Chief Epidemiologist Dr. Sudath Samaraweera said, "We are currently paying attention to identifying patients in the Colombo Municipal Area. We yesterday put into use antigen rapid diagnostic tests and by using these continually, we can prevent the further spread of the virus."

Colombo Mayor Rosy Senanayake yesterday renewed her call for a total lockdown of the Colombo Municipal Area due to the spread of COVID-19, saying that a two-week lockdown enforced now would allow for the reopening of the area by the beginning of December. She explained that 28 COVID-19 deaths had occurred in Colombo city to date, and 4,836 patients have been identified in the Colombo Municipal Area.

Senanayake went on to say that 70% of the Colombo Municipal Area was currently under lockdown, but that un-isolated areas between the isolated areas gave way to violations of movement restrictions.

"This is not only the responsibility of the Government or health units, and criticising various persons is not what we should be doing, but we should all intervene and overcome this," she said, adding, "I do not like the Government failing because of COVID-19. We want the Government to overcome this successfully."

Addressing the call for a total lockdown of the Colombo Municipal Area, Lt. Gen. Shavendra Silva yesterday said relevant authorities evaluate the situation in the country on a daily basis in order to take the necessary decisions to contain the spread of COVID-19. These evaluations include discussions on isolated areas. However, the NOCPCO Head said the decisions taken following these evaluations looked at limiting isolated areas to what is absolutely necessary and to impose movement restrictions only as required, depending on risk levels.

"We are not taking COVID-19 lightly and we are taking all measures to prevent the spread of COVID-19, but while doing so, we will also re-open any street or road that need not be isolated," he said.

Silva also addressed concerns on the high number of COVID-19 deaths occurring in houses, saying that families have been informed to seek medical attention for any relatives who suffer from chronic illness like diabetes, cancer or heart disease if they seem unwell.

"The Health Ministry informed us that, a majority of the persons who passed away at home died of complications that arose with chronic illness. Of the COVID-19 deaths, 60% or so are over the age of 60," he added. The NOCPCO Head went on to say that the Health Ministry was currently preparing a report on the matter.

Meanwhile, the Health Ministry stated that a specialist service will be launched today to provide persons in isolated areas with the medical services they require. While the locations will be announced today, Director General of Health Services Dr. Asela Gunawardena said persons who are unable to visit clinics or refill their prescriptions can make use of this service. He added that an ambulance unit has been established in the Meethotamulla School to provide services to persons in isolated areas in the Colombo Municipal Area. The service can be contacted via 0113422558.

"With the passing of a few more weeks, the number of patients detected in the Colombo Municipal Area can be reduced to a great extent," Dr. Gunawardena added.

While the majority of the cases identified on Wednesday were detected from the Colombo District, 111 cases were identified from the Gampaha District as well. This includes 25 from Wattala, 18 from Awariyawatta and 12 from Negombo. A total of 5,141 COVID-19 cases have been identified from the Gampaha District to date.

In addition to this, Wednesday's cases also include 21 persons from prisons, six officers attached to the Special Task Force and two officers attached to the Sri Lanka Police.