Says local law enforcement failing to charge suspects it already has in custody, while the US has moved forward, reflects badly on SL agencies
Faults Govt. for delays despite coming to power pledging swift justice
---
By Asiri Fernando
---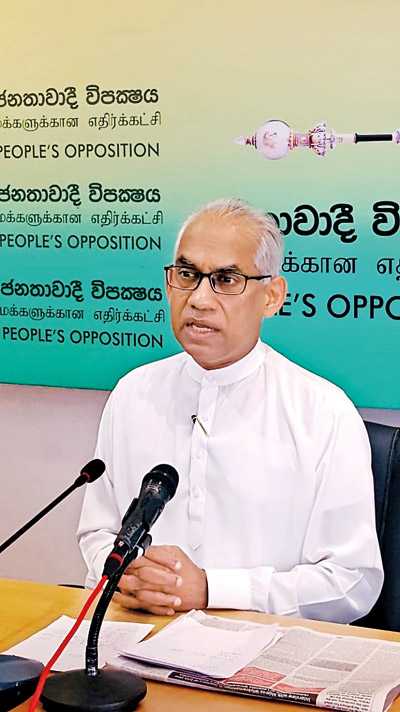 Samagi Jana Balawegaya (SJB) Parliamentarian Eran Wickramaratne addressing the press conference
---
Samagi Jana Balawegaya (SJB) Parliamentarian Eran Wickramaratne recently faulted the Government for failing to charge suspects connected to the Easter Sunday bombings to date, despite coming to power promising justice for the victims and campaigning on promoting national security.

The former State Minister of Finance made the comments in response to a question at a press conference held at the Opposition Leader's office on Sunday.

Wickramaratne pointed out that the US Justice Department had filed criminal charges against three suspects linked to the Easter Sunday bombings following a two-year-long investigation.

"This Government campaigned with the promise of bringing those behind the attacks to justice and they have not been able to charge a single suspect and produce them before the judiciary. Whereas it is reported that the US has charged three persons in connection to the Easter Sunday attacks," Wickramaratne told Daily FT.

The fact that the Sri Lankan law enforcement agencies have failed to interdict suspects in custody in relation to a terrorist act on home soil, while the US has been able to charge three who are in Sri Lankan custody for a terrorist act on foreign soil, reflects poorly on the Government's commitment to delivering justice to victims, Wickramaratne opined.

Criminal charges have been filed against Mohamed Naufar, Mohamed Anwar Mohamed Riskan and Ahamed Milhan Hayathu Mohamed in the US district court of Los Angeles. All three suspects have pledged allegiance to the ISIS extremist terrorist movement, the US Justice Department said.

"The criminal case filed on 11 Dec. 2020, in the U.S. District Court in Los Angeles is the result of a nearly two-year investigation by the FBI, which assisted Sri Lankan authorities in the wake of the suicide bombings that targeted Christian churches and luxury hotels frequented by Westerners. The defendants named in the complaint, along with other suspects linked to the attacks, currently are detained in Sri Lanka, where a criminal investigation is ongoing," the US Department of Justice said in a press release.

Five US nationals, including a Department of Commerce employee on official business, were killed along with 263 others in the Easter Sunday Bombings. More than 500 were injured due to the attacks which targeted churches and hotels frequented by foreigners.

According to the Police Spokesman DIG Ajith Rohana, no charges have been laid against the suspects in custody related to the attack as the Presidential Commission of Inquiry appointed to investigate matter is still ongoing. The law enforcement agencies already have the findings of the Parliamentary Select Committee which was appointed to inquire into the attack by the last Government. Over 80 suspects are being held under detention orders or are remanded in relation to the attack, the Police added.