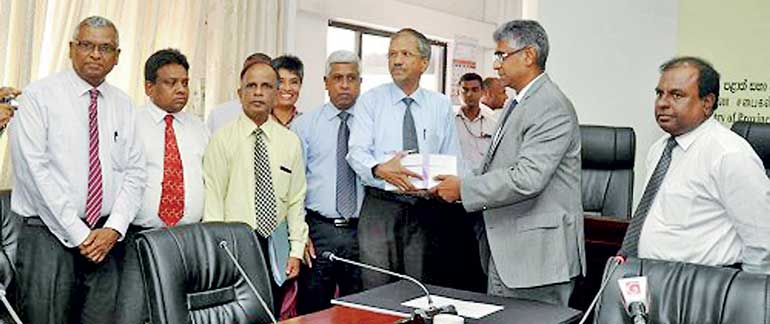 The Delimitation Committee for the conduct of Provincial Council elections yesterday handed over its report on the delimitation of electorates to Provincial Councils and Local Government Minister Faiszer Musthapha.

With the enactment of the Provincial Council Elections (Amendment) Act No. 17 of 2017, a new mixed voting system was introduced for provincial councils.

Under the mixed voting system, 50 percent of the representatives should be elected by the simple majority system for an electoral district, and another 50% should be selected according to the district level proportional representation method (the additional list).

Accordingly, the President appointed a five-member Delimitation Committee to the task of determining the limits of electoral districts, and to submit a report within four months from the date of appointment.

Accordingly, the report prepared by the Delimitation Committee was handed over to the subject Minister today.

The subject Minister said that before publishing the report, an all-party conference will be called to discuss the contents of the report and obtain their suggestions, in order to minimise the number of revisions that could come up when the report is presented to Parliament.

He also appreciated the work carried out by the Delimitation Committee within a short period of four months and added that the report would be presented to Parliament within the next two weeks.

Once the bill is passed in Parliament, it is possible to hold Provincial Council elections soon.

The five-member Delimitation Committee was chaired by Dr. K. Nawalingam and comprised Prof. S. H. Hussbulla, Dr Anila Dias Bandaranaike, former Additional Commissioner of Elections P.M. Siriwardena, and Peradeniya University Department of Economics and Statistics Head S. Vijesandiran.