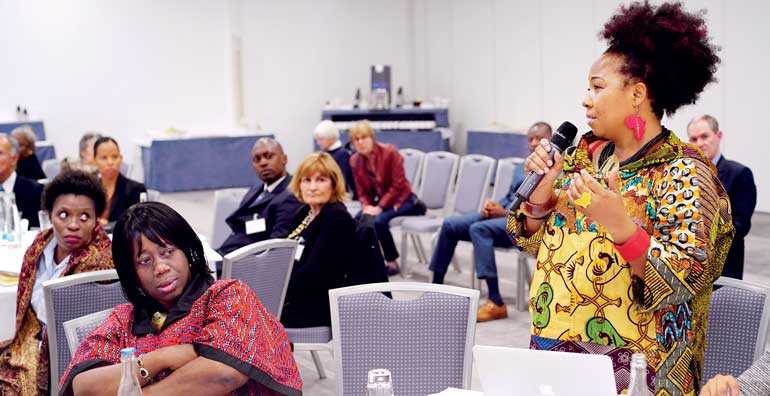 By Charnika Imbulana

in London

The Commonwealth People's Forum (CPF) held alongside CHOGM that brings together civic voices from around the world to debate key issues facing Commonwealth people saw a low turnout in London, which made the delegates who attended call out for more people participation.

The CPF is the single largest opportunity for civil society to engage with Commonwealth leaders on global development issues.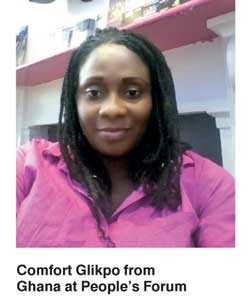 CPF 2018 brought a civic perspective to this discourse, with the central theme being 'Inclusive Governance: The Challenge for a Contemporary Commonwealth'.

CPF was one of the Forums running parallel with the Business Forum, Women's Forum and Youth Forum, all from which the outcomes document was prepared to persuade the Commonwealth leaders to take action upon the contents detailed in it.

Sessions on each of the Forum's three days focused on a particular theme:

Day 1 – 'Leave No One Behind: Exploring Exclusion in the Commonwealth'

Day 2 – 'Politics of Hope: Taking on Injustice in the Commonwealth'

Day 3 – 'Accountable Governance: Understanding the Imperatives for a Renewed Commonwealth'

The programme combined panel discussions, in-depth conversations, case studies and creative expression. It provided platforms for voices from across the globe and concluded with a call to action for a contemporary Commonwealth in the context of inclusive, just and accountable governance.

At the 2015 CHOGM in Malta, the People's Forum was packed to capacity and was more active than the one held in the UK. In Malta Heads of Government noted the consonance of the Foundation's mission and Sustainable Development Goal (SDG) 16 and its emphasis on peaceful and inclusive societies and building effective, accountable institutions at all levels.

Among the Delegates comprising of civil society from some of the Commonwealth countries who attended the People's Forum in the UK was Comfort Glikpo from Ghana. She shared her views with Daily FT on the People's Forum in London.Hailing from the capitol City Accra, Comfort said that the discussions were great and the debates were very interesting, while she described the speeches as being educational and inspiring. However she said she was disappointed with the low turnout of number of the delegates.

"There should be more participation encouraged. It was disappointing to see that there were empty seats. The programme was good. I feel there would have been many civil society people in the world who would have wanted to participate in this wonderful platform that gives everyone a chance to speak out."

Comfort is the CEO of Del Foundation, an NGO that deals with reproductive health education for girls and adolescents. Del Foundation has been in operation for four years.

"This is my first time at the CHOGM Forum, therefore I was excited and I am happy I participated and contributed. I have been a Commonwealth Youth Forum member for the last three years, essentially online, however this is the first time I am physically participating in a Commonwealth Forum," she explained.

"For my field of work, participating in the Women's Forum is more up my street but although my application was requesting to be a delegate for the Women's Forum, I got selected to the People's Forum. But that's fine," she contends.

"I enjoyed the People's Forum and I did have interests in that too. People's Forum was more for civic organisations and I wanted to know how the civic organisations could get involved and deal with issues that affect the Commonwealth."

Relating the interesting story of how she initiated her Foundation, she said: "While growing up, my mother was involved in business. She was a trader and sold food to a food outlet. This place was in close proximity to a slum named Sodom, now known as 'old fadama'. During vacation I would accompany her to her work, and nearby I would see the girls in the slum involved in all sorts of vices.

"I felt that after I return from school, I could assist them in preventing unwanted pregnancies, in the prevention of suicides and all kinds of problems they were facing and most of the time not able to find any solutions. We decided to step in there and assist them with comprehensive education so that they can lead an independent life, and avoid getting into situations that jeopardise their young lives.

"Over the years, I expanded and now we go and assist not only slums but other communities as well, including schools, where we mentor, counsel and provide skills training for girls on a much larger scale. We initiated a 'Teen Girls Investment Project' where we assisted 100 teenage mothers set up their own enterprise," she explained. "Global Giving-m in the US helped to raise funds for the project. They are only a platform which guides us."

"Because I am involved in social service and a subject that affects many Commonwealth countries, I am in the right place to improve what we do. Although the People's Forum in London was a comprehensive one with regard to the content, yet I feel much more could be improved in the next – especially in terms of the numbers, the numbers didn't really portray a People's Forum," she emphasised.

"I was expecting to see 350 delegates, however the number in attendance was far less than that. The panel discussions in particular were good. There would naturally have been more interactions had there been more delegates. I was very interested in an all-inclusive Commonwealth and the injustices in the Commonwealth. I don't see it as an all-inclusive Commonwealth yet, and will be looking forward to contributing to make it one," she added.

Comfort hopes to attend the next CHOGM 2020 as a delegate for the Women's Forum in Rwanda and is looking forward to assist in achieving its objectives.