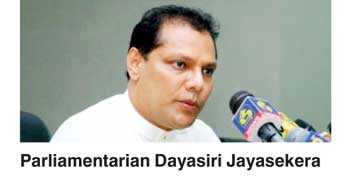 By Madushka Balasuriya

Allegations of abuse of power have been brought against Parliamentarian Dayasiri Jayasekera for incidents that took place during his term as North Western Province Chief Minister in 2013. The UPFA MP is alleged to have personally intervened in the admissions and transfer process of four schools in the North Western Province.

"We have obtained a number of copies of letters bearing the signature of the former Chief Minister of the North Western Province signed on 10 December 2013, during his term of office, directing four school principals to carry out admissions in violation of the relevant circulars on school admissions and transfer of students," read a letter filed by Transparency International Sri Lanka to the Commission to Investigate Allegations of Bribery or Corruption (CIABOC).

When Daily FT reached out to Jayasekera for comment, the former Minister said he was not aware of the complaint filed by Transparency International, but assured that his actions were all above board.

"During my time as Chief Minister we formed a committee to revaluate failed school admissions applications, and if we felt that they had just reasons to be admitted to a particular school then we would get in touch with the relevant provincial councils, who would then reach out to the schools," he told Daily FT.

As per TISL's filing with CIABOC, four letters addressed to four school principals in the province, all of which bear Jayasekera's signature, have also been submitted as supporting to documents.