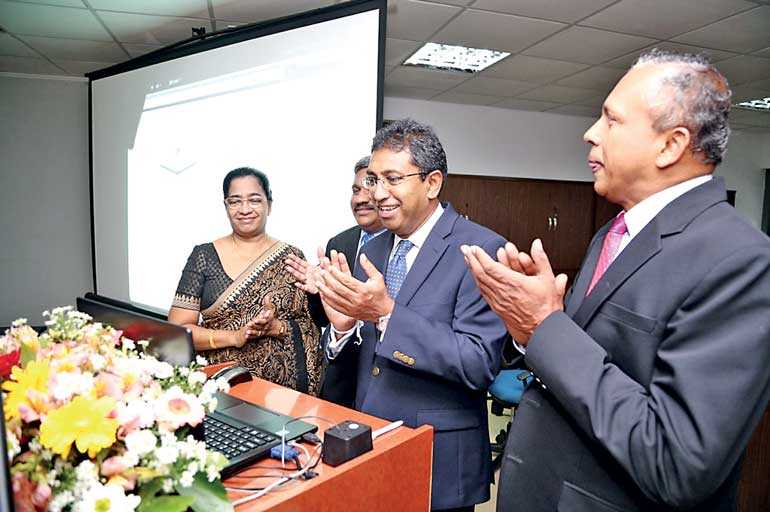 National Policies and Economic Affairs State Minister Dr. Harsha de Silva (centre) at the launch of the Census and Statistics Department digital repository, with Director General Dr. A.J. Satharasinghe and other officials
The Department of Census and Statistics (DCS) recently launched its digital repository and online library catalogue.

State Minister of National Policies and Economic Affairs Dr. Harsha De Silva launched the digital repository on 8 June at the DCS in Battaramulla. The Census Department provides various socio-economic and demographic statistics to data users, covering a wide spectrum from students, researchers to policymakers and international agencies.

DCS's library is a special exclusive library, having many documents covering survey methodology, national accounts, demography and population, poverty, education, health, agriculture, price and inflation, income and expenditure, labour force, industries, trade, development indicators etc.

In order to meet new challenges, such as outburst of information in the modern society, the DCS has automated its library. This project has been initiated with technical support from the Open University of Sri Lanka. DCS has also set up a digital repository, in collaboration with the National Science Foundation.

Using modern Information Communication Technology (ICT) tools, DCS launched the digital repository and online library catalogue to provide information on available resources, to DCS staff and other users, from various government institutions, policymakers, and researchers to students and the general public. The DCS digital repository provides access to rare and important documents published by the Department, including the 'Census of the Island of Ceylon 1871 General Report', which is the report of the first ever census conducted in the Asian region. There are more than 400 important documents, including rare books, accessible through the DCS digital library. Users can download digital copies of such documents, and obtain information on other resources, through the digital repository of the DCS Library. All these facilities can be accessed through www.library.statistics.gov.lk.