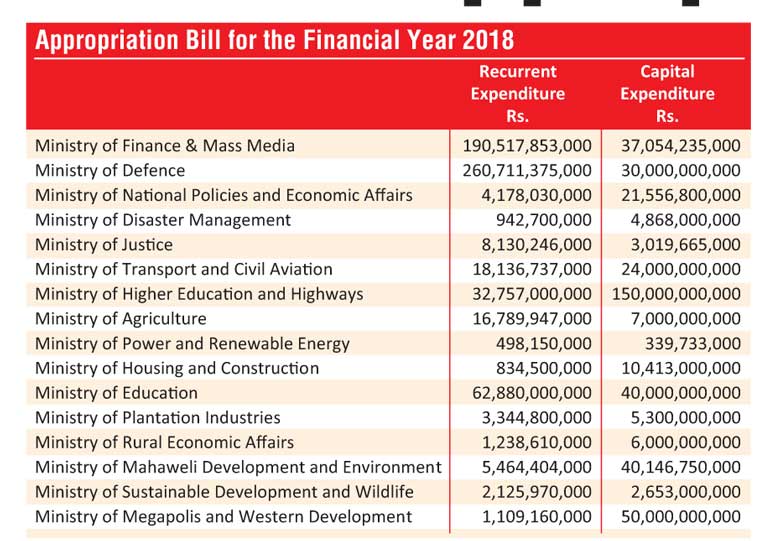 By Chathuri Dissanayake

The Cabinet yesterday approved the Appropriation Bill for 2018 to be presented in Parliament during the last week of this month.

The Ministry of Finance estimates a total expenditure for 2018 of Rs. 3,982 billion. The amount includes Rs. 1,308 billion for recurrent expenditure and Rs. 668 billion for capital expenditure. Further, this also includes Rs. 2,005 billion needed to service public debt and payments for widows and orphans, pension, etc.

The Government estimates revenue of Rs. 2,175 billion from foreign grants while another Rs. 1,813 billion is need to be financed through loans to be obtained from both foreign and domestic sources.

Cabinet also gave approval to the proposal made by the Prime Minister Ranil Wickremesinghe to present Budget 2018 on 9 November, while the debate on the second reading will be held on 10,11,13,14 and 15 November. The committee stage debate will kick off on 16 November and the vote on the third reading of the budget will be taken on 9 December. According to the Appropriation Bill proposed by Finance Minister Mangala Samaraweera, the allocation for the Defence Ministry remains the highest in the budget with a total recurrent expenditure of Rs. 260.7 billion while capital expenditure is Rs. 30 billion. The Finance Ministry has been allocated Rs. 190.517 billion while a total of Rs. 37.054 billion has been allocated as capital expenditure.

The Appropriation Bill proposes a total of Rs. 4.178 billion as recurrent expenditure for the Ministry of National Policies and Economic Affairs along with another Rs. 21.55 billion as capital expenditure. The total recurrent expenditure of the Ministry of Health, Nutrition and Indigenous Medicine for 2018 will be Rs. 134.399 billion while another Rs. 44 billion will allocated as capital expenditure.