By Shannon Jayawardena

The British Council on Monday showcased its "Active Citizens" projects to further promote community cohesion through networking and interaction, together with delegates from over 30 countries across the world.

"Active Citizens" which is a non-profit organisation is run by the British Council and several partner organisations and works with youth who have shown a key interest in fulfilling their roles in social responsibility.

British Council Sri Lanka Country Director Gill Caldicott said: "I believe that our society work is at the heart of the work that we do in Sri Lanka and we are very proud of it. I have been truly inspired by what can be achieved through our Active citizen's program."

"It is a testament to the power of the methodology that young people's lives have been transformed and they have been able to go on and bring about significant change in their communities, building on their passion and their understanding of local community leads. With this program we are able to reach out to the furthest corners of the country and offer hope and opportunity to those who need it most." she added.

Active citizens is a team of youth workers, women's group members, educators, community development professionals, voluntary sector representatives and religious leaders who work together to build understanding amongst one another to deliver various social action projects.

Their work is primarily focused on poverty, gender discrimination, violation of human rights and environmental pollution. While there are over 210015 active citizens trained globally there are about 6,000 who have been trained locally.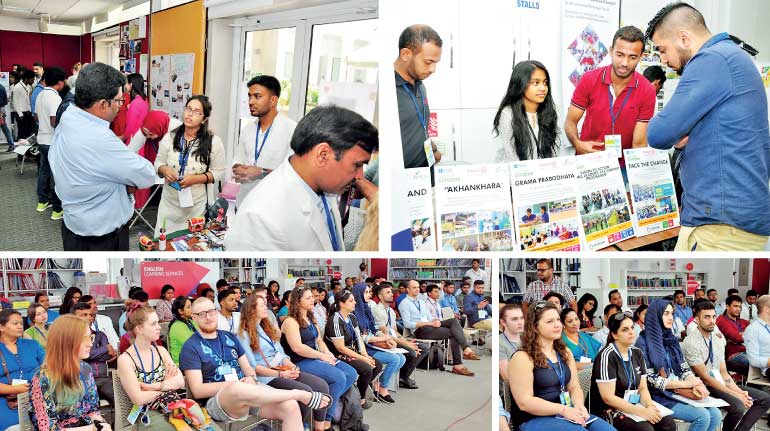 British Council Sri Lanka Head of Programmes Sanjeevani Munasinghe stated: "We have been working on society for more than ten years, especially with the youth. We've worked with universities and civil society organisations and then we got involved with Active Citizens about five year ago. Since then we have come a very long way."

This program has reached many local communities all over the country while empowering youth at the same time. The youth empowerment program is initiated through a focused selection procedure that includes community based institutes. The participants then go through a five day training program that enables them to learn self-identification, communication, conflict management, leadership and so forth. The project showcase held at British Council enhanced the participant's knowledge on the above virtues while giving them access to global connections and skills to establish networks engaged in social development. Projects by delegates from UK, Bangladesh, India, Ukraine, Vietnam and Egypt were also showcased at the occasion.

UK Education and Society Project Manager Michael Unwin said: "There is one key message that I want to share which is the fact that this program has grown in great strength. Every year for the last six or seven years we've had new countries join us from all over the world and the work that they're doing gets more and more diverse. Their impact at present is growing to reach a very large context."

While approximately 40 projects were showcased, it provided a platform for children and youth from all over the country to interact, talk and understand each other amidst the existing cultural diversities to solve various social issues from discrimination to gender based violence.

-Pix by Lasantha Kumara