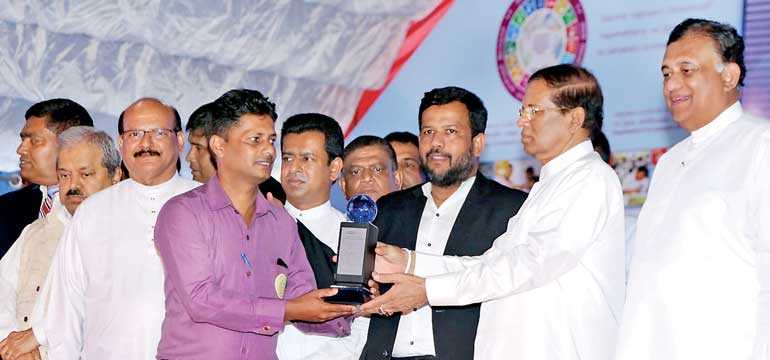 President Maithripala Sirisena presents an award to a young cooperative employee who was a winner at the 96th International Cooperative Day event in Batticaloa on 7 July as Industry and Commerce Ministry Secretary K.D.N. Ranjit Ashoka (far left), Indian Farmers Fertiliser Cooperative Ltd. Cooperative Development Director A.K. Singh (second from left), Industry and Commerce Deputy Minister Buddhika Pathirana (fifth from left), Industry and Commerce Minister Rishad Bathiudeen (third from right) and Eastern Province Governor Rohitha Bogollagama (far right) look on
Bathiudeen announces tax exemptions, lifetime pensions for coops
40% of Lankans now a member of a coop unit, coop assets now close to $ 3 billion
'Global coops positioned for SDGs': Indian Coop's Singh
The century-old Sri Lankan cooperative sector received the biggest boost in its history when President Maithripala Sirisena invited it to sit in the future sessions of the National Economic Council (NEC) on 7 July.

Many new relief measures for cooperatives were also announced. Chief among them was exempting cooperatives from income tax payments so that the sector would be revived to play a key role in Sri Lanka's economic reforms.

"I too began my working life as an employee of a cooperative. Cooperatives are a peoples' movement. It's a common platform to put forward their issues, to collaboratively voice them. The National Cooperative Commission (NCC) under Minister Rishad Bathiudeen should take the lead in this," said President Maithripala Sirisena while speaking on 7 July in Batticaloa.

The President was speaking during an event celebrating the 96th International Cooperative Day in Batticaloa, organised by Industry and Commerce Minister Rishad Bathiudeen, under whose purview cooperatives fall.

Joining the President and Minister Bathiudeen were Industry and Commerce Deputy Minister Buddhika Pathirana, Industry and Commerce Ministry Secretary K.D.N. Ranjit Ashoka, Co-operative Development Commissioner and Co-operative Societies Registrar S.L. Naseer, Eastern Province Governor Rohitha Bogollagama and visiting international dignitary for the occasion A.K. Singh, the Director of Cooperative Development of the Indian Farmers Fertiliser Cooperative Ltd. (IFFCO).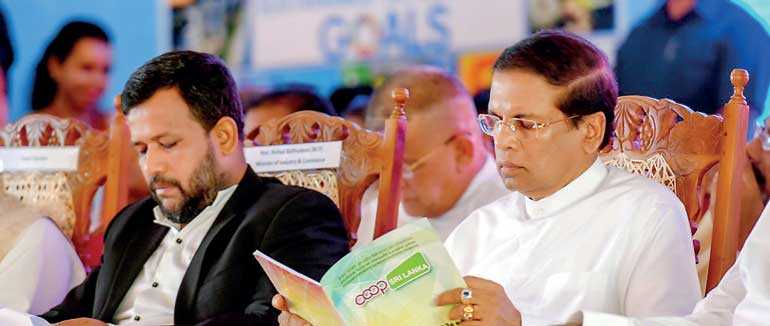 "I praise Minister Rishad Bathiudeen and his ministry for the many new initiatives launched by them for this sector in the last few years. I call on the NCC and Minister Bathiudeen to launch even more activities in the future to develop this sector. I call on the Ministry of Industry and Commerce and NCC to sit with me at the NEC in the future to develop this sector further. I wish to resolve any other pending issues of cooperatives at the NEC and will launch many other reforms for this sector in the next two to three months. Today's event lays a stronger foundation for the future of our coops and I praise Minister Rishad Bathiudeen and his ministry for the many new initiatives they have launched so far."

Minister Bathiudeen thanked President Sirisena for the support extended to this sector and announced several new reforms to revitalise it on 7 July.

"I am pleased to announce that with immediate effect all cooperative societies of Sri Lanka are exempted from income tax. This will result in good savings for them," said Minister Bathiudeen.

"All cooperative employees across the country will be given an additional monthly allowance of Rs. 1,000 from next month. All the cooperative employees will be entitled to a pension from now on. Cooperatives struggling with bank loans will be given a reimbursement and our Cabinet Paper to this effect has been approved. As a result we have already paid Rs. 100 million in bank loans owed by coops through Treasury funds. Another Rs. 390 million in cooperative loans will be reimbursed by us in the future with the support of the Treasury. The provision of heavy vehicles to cooperatives at low rates will also be done now since the President has given his approval. All these new decisions have been arrived at to make this important movement a key driver in the economic growth and reform vision of the Unity Government," he added.

"The theme for the 2018 International Day of Cooperatives (IDC) is 'Sustainable consumption and production', creating an opportunity for cooperatives to show how they run successful businesses while respecting our natural environment and the resources it offers," said IFFCO's Director Singh.

"The global cooperative sector is already working to achieve SDGs and this year's theme is a result of this."

Sri Lanka's cooperative sector completes its 114th anniversary this year. Sri Lanka's cooperatives movement began in 1904 with the commencement of a rural credit society in Menikhinna village, Kandy in the Central Province and today 40% of the Lankan population (850,000) are members of a cooperative society. There are 14,500 such societies today across the country, sporting a huge assets and savings base close to $ 3 billion.