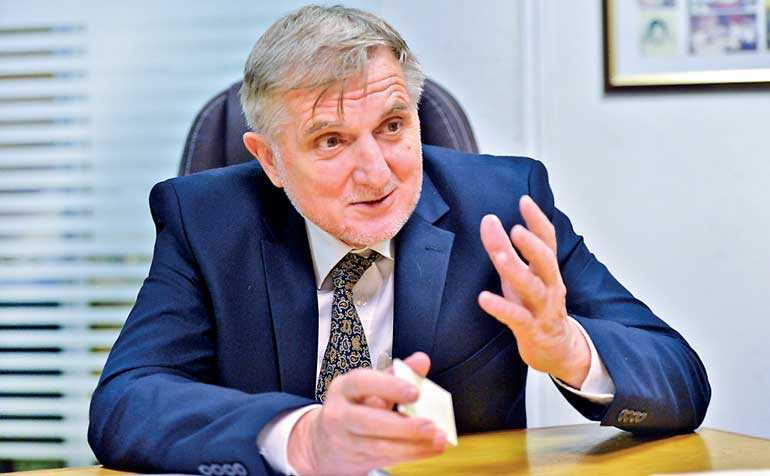 Ambassador of Bosnia and Herzegovina to Sri Lanka Muhamed Čengić – Pic by Daminda Harsha Perera
New Ambassador to SL wants to build relations based on non-aligned polices
Tourism main sector both countries are looking to cooperate in
Proposal to make Sarajevo and Colombo sister cities
Sri Lanka and the former Republic of Yugoslavia enjoyed close diplomatic relations for years based on their commitment to the principles of non-alignment. While the Republic of Yugoslavia was dissolved in the early 1990s, the six independents states that were set up after its breakup continue to share close ties with Sri Lanka. Among these is Bosnia and Herzegovina, whose newly-appointed Ambassador to Sri Lanka, Muhamed Čengić, is keen to build on the solid foundation on which the two countries forged and enjoyed cordial relations for decades. Ambassador Čengić, who is accredited to Sri Lanka while being based in New Delhi, India, was in Colombo to present his credentials to President Maithripala Sirisena last week. He spoke to Daily FT of his plans to further strengthen ties between the two countries during his three-year stint as Ambassador. The following are excerpts of his interview.
By Chandani Kirinde
Q: Your country suffered a four-year-old war. How is the post-war recovery going on?

A: We became independent in 1992 and in the same year the war started and lasted for almost four years. It ended with the signing of the Dayton Peace Agreement in November 1995. This agreement paved the way to stop the war and build institutions. We have had peace since then but politically the situation is not that stable, which has affected our economic recovery and our efforts to join the European Union (EU) and the North Atlantic Treaty Organization (NATO), which are both important for the economy and security of the country. Hopefully this problem will be sorted out soon and we can join the EU and NATO.
Q: Where do relations between Sri Lanka and Bosnia and Herzegovina stand today?

A: We cannot say our relations started with the setting up of the independent state of Bosnia and Herzegovina. We share part of a common history between the two countries which is based on the policies of the Non-Aligned Movement. We had solid relations during the tenure of Prime Minister Sirimavo Bandaranaike and Marshal Tito. We have maintained very good relations since then. We support each other in international bodies and some multilateral bodies as well. Bosnia and Herzegovina is in the process of accession to the EU. Once we join the EU, cooperation will be further enhanced.
Q: What areas of cooperation can the two countries build on?

A: During the time of Yugoslavia, the two countries had good relations in the energy sector and we are interested to renew these ties and explore if it is possible to achieve some level similar to that of those years.

Tourism is the other important sector. We have many Sri Lankans visiting Bosnia and Herzegovina on pilgrimage to one of the most important sites for Catholics - Medjugorje. This town is located in the Herzegovina region and is a popular site of Catholic pilgrimage and we have visitors from all over the world who come there, including from Sri Lanka.
Q: How about tourists from Bosnia. Do they visit Sri Lanka?

A: There is an increase in the number of people from my country who are visiting Sri Lanka. Recently 10 tour agent groups visited Bosnia in a programme organised by Qatar Airways. There are some advantages in building tourism between our countries. Sri Lanka is an exotic place and is near our region. Some of our tourists who come here once like to come back again. I think soon we will have more tourists travelling between the two countries.
Q: What is the visa requirement for Sri Lankans travelling to Bosnia?

A: Sri Lankans need to get a prior visa from our Embassy in New Delhi but we have a facility where if the Sri Lankan passport-holder has a multiple entry visa to a Schengen state or any EU country, the USA, UK or Canada, they can enter Bosnia without a visa and stay there for 30 days. We are now looking to give visa exemptions to diplomats and officials who travel to Bosnia.
Q: What other areas can the two countries build on?

A: There is a proposal to make our capital city Sarajevo and Colombo sister cities. We are hoping to sign the agreement in this connection in the first half of next year which will help to boost relations. We are hoping Sri Lanka's Minister of Tourism will also visit our country soon.

We also want to build cultural ties between the two countries. We hope to translate a book of poetry from Bosnia and present it at the Galle Literary Festival next year and also build people-to-people contacts. That is the best way to build relations between countries.