SLFP seniors, CBK, Duminda, Amaraweera, SB and Dilan among losers
UNP pillars Sajith, Kiriella, Sagala, Mangala, Rajitha and Harsha face defeat
Harin and Navin the only UNP Ministers to secure victories in their districts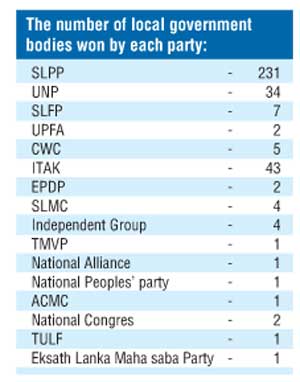 By Chathuri Dissanayake

Leading national political figures performed miserably in the local government polls, failing to secure victory even in their electorates, resulting in an embarrassing defeat for both mainstream parties.

Senior Advisor of Sri Lanka Freedom Party (SLFP) and former president Chandrika Kumaratunga lost her electorate, Attanagalla, a party stronghold. Party General Secretary Duminda Dissanayake was unable to secure victory in his electorate, Kalawawa, while SLFP lost Tangalle electorate where UPFA General Secretary Mahinda Amaraweera is the organiser. SLFP spokesperson State Minister Dilan Perera too was unable to measure up to the challenge thrown in by the SLPP, losing his electorate, Haliella.

Party strongmen in the United National Party too crumbled under the might of Sri Lanka Podu Peramuna (SLPP), losing their electorates to former President Mahinda Rajapaksa's proxy party. UNP Deputy Leader Minister Sajith Premadasa was unable to secure victory in his electorate, Thissamaharama, while Minister Mangala Samaraweera lost his electorate, Matara, and Minister Lakshman Kiriella lost his electorate, Senkadagala, although UNP secured the overall victory in Kandy. Minister Rajitha Seneviratne too was unable to overpower SLPP, despite challenging them during the campaign, losing Beruwala. Ruwan Wijewardana too was unable to overpower SLPP in Biyagama.

Ministers Harin Fernando and Navin Dissanayake were the only UNP members who secured victory in their districts and electorates. UNP General Secretary Kabir Hashim managed to save his electorate for the party, but failed to lead his team to victory in the district. Senior member of UNP Ravi Karunanayake also managed to secure his electorate, despite political setbacks he faced in the recent times.

UNP Deputy Minister Ajith P. Perera also lost his electorate, Bandaragama, while UNP State Minister Eran Wickremeratne and Deputy Minister Harsha De Silva failed to lead their local teams to victory in Moratuwa and Kotte electorates respectively. UNP lost Kalaniya electorate where Field Marshal Sarath Fonseka is the organiser, while Minister P. Harrison lost his electorate in Anuradhapura West. UNP MPs Nalin Bandara and Chaminda Wijesiri too lost their respective electorates in Bingiriya and Bandarawela. Minister Sagala Ratnayake too was unable to face up to the challenge posed by SLPP, failing to lead his party men to victory in Deniyaya. State Minister Sujeewa Senasinghe was unable to defeat opponents in his electorate, Kaduwela.

Senior SLFP Minister Anura Priyadharshana Yapa, too, failed to secure victory for his party in his electorate, Katugampala, while Minister Dayasiri Jayasekara also faced a similar fate in his electorate in Panduwasnuwara. Minister S. B. Dissanayake was also unable to lead his team in Pathahewahata to victory. SLFP Organizer for Panadura Minister Mahinda Samarasinghe, and organizer for Hakmana State Minister Lakshman Yapa Abaywardana, were also unable to secure victory in the electorates. Wijith Wijayamuni Zoysa was not able to retain his seat for SLFP during the LG polls either. Western Province Chief Minister Isura Dewapriya was also unable to secure victory for SLFP in his electorate Maharagama. G. H. Buddhadasa, Kaduwela mayor for over a decade, also lost his stronghold.