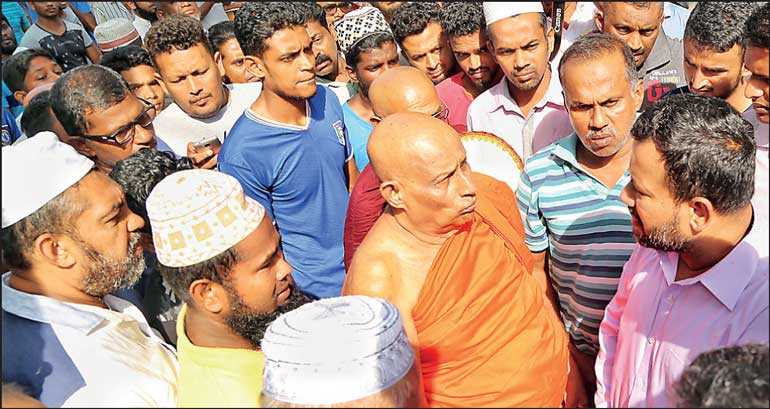 Minister of Industry, Commerce, Resettlement of Protracted Displaced Persons, Cooperative Development, Skills Development & Vocational Training Rishad Bathiudeen meets award winning human right activist and peace activist Ven. Mahagal Kadawala Punyasara Nayaka Thero (Upa Pradhana Sanga Nayaka of Sathkorala Maha Disawa) in Kotaramulla on 13 May
Minister of Industry, Commerce, Resettlement of Protracted Displaced Persons, Cooperative Development, Skills Development & Vocational Training Rishad Bathiudeen meets victims of May 13 riots in NWP
---
Minister and party members visit riot-hit NWP, assess damage
Victims inform Rishad that attacks appear to be planned in advance
Eyewitnesses and residents in the areas that were affected by violence in the North Western Province told Industry and Commerce Minister Rishad Bathiudeen that large groups of people carried out the attacks in a well-organised manner, the Ministry said in a statement yesterday.

During his observation tour to the Province,Minister Rishad Bathiudeen was also informed by scores of victims that members of some mobs were dressed in identical colours and rode motorbikes or arrived in buses that appeared to be specifically arranged for the attacks. According to them, the attacks also appeared to have been planned in advance.

Leader of ACMC and Minister of Industry and Commerce, Resettlement of Protracted Displaced Persons, Cooperative Development, Skills Development and Vocational Training Rishad Bathiudeen visited several affected areas of the NWP on 13 May with MPs of ACMC, including MP Ameer Ali and State Minister Abdulla Mahroof. At one point, Minister Bathiudeen was joined by MahagalKadawalaPunyasara Nayaka Thero.

Minister Bathiudeen visited Kottaramulla, Minuwangoda, Hettipola, KottambaPitiya, Bingiriya and Kiniyama areas to commiserate with riot victims and see to their welfare.

Mahagal Kadawala Punyasara Nayaka Thero,who joined Minister Bathiudeen at the funeral of riot victim Fouzul Ameer, stressed on the urgency to create peace in NWP so that likelihood of more attacks are diminished. "Muslim people should now reconcile and reintegrate with Sinhalese and Tamil people of Sri Lanka. I have known Minister Bathiudeen for a long time. He has been helping Buddhist temples and Buddhist monks in the Northern Province. He spent millions of rupees to renovate Buddhist temples in Mannar and Vavuniya. Since I regularly travel to Puttalam as well as the North, I can confirm this. Therefore Minister Bathiudeen does not only work for Muslims. I also say that accusations against Minister Bathiudeen are false. Where are Muslims to go if they are attacked like this? Are they to jump into the sea? It is clear that there is a political agenda behind these riots." On 13 May, Minister Bathiudeen informed the victims and Muslim families in the areas he visited that he held discussions with President Maithripala Sirisena and PM Ranil Wickremesinghe on various relief measures for the affected.