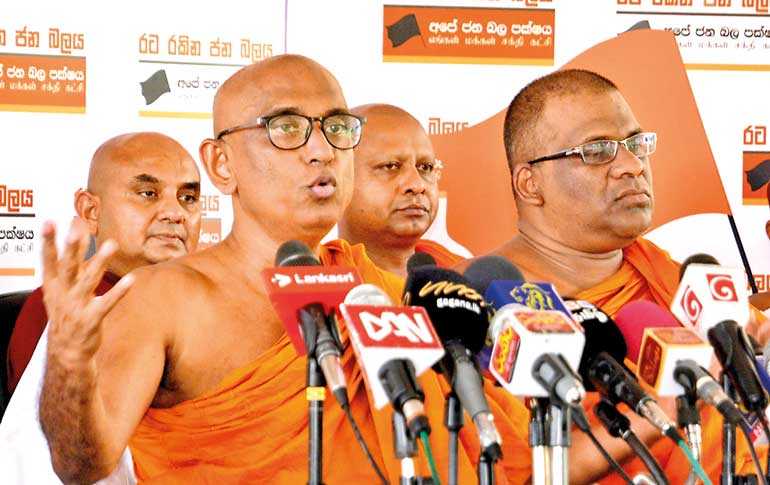 Former Parliamentarian Athuraliye Rathana Thera (left) and BBS General Secretary Galagoda Aththe Gnanasara Thero
---
Says new movement will be formidable force in Parliament
Accuses Govt. of reneging on promises to counter extremism
Former Parliamentarian Athuraliye Rathana Thera and Bodu Bala Sena (BBS) General Secretary Galagoda Aththe Gnanasara Thero are joining hands to give leadership to a new political party led by Buddhist monks to contest the forthcoming General Election.

The party, named 'Ape Jana Bala Pakshaya,' hopes to become a leading political force in the country and win at least 20 seats in Parliament, Rathana Thero told the media on Monday.

"We have not yet decided in which district we are going to contest but we are confident of winning a significant number of seats. We will field some notable candidates," he said.

Rathana Thera last week criticised the Government for its failure to take tough measures to combat Islamist extremist groups, abolish madrasa schools and take over the controversial Batticaloa Campus. He said the Government had failed to deliver on its election promises, which raised questions about its credibility.

"The decision to support President Gotabaya Rajapaksa was taken following his assurance to eradicate extremism in the country. We have waited more than three months, hoping the Government will take positive steps to deliver on its promises. Instead it is attempting to register madrasas, which is the complete opposite of what it promised," he charged.

He also requested the Government to postpone the General Election. "The country is facing a great challenge at the moment. It should focus on containing COVID-19 at the moment and consider postponing the election," he said.

Gnanasara Thera said they would put together a nationalist movement for a better future so that everyone could live in a safe and prosperous country. "Those who love the motherland have come together to strengthen the nation," he said.

He added the new political force would work to counter Islamist extremism that led to the Easter Sunday attacks.