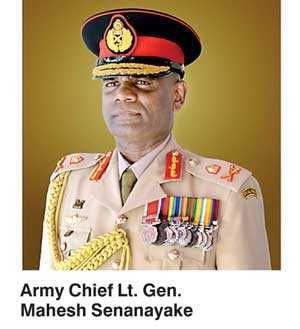 By Shanika Sriyananda

Stressing on the importance of promoting reconciliation among all ethnic groups irrespective of their races and religions, Army Chief Lt. Gen. Mahesh Senanayake called on soldiers to be dedicated and fully prepared to defend the nation to prevent re-emergence of insurgencies in the country.

"With the prevailing peaceful environment, the Sri Lanka Army (SLA) has to be more vigilant to sustain the hard-earned peace and the national security. The prime responsibility of the Army is to pass down the value of peace and harmony to the next generations," he said in a statement released to mark the 69th Army Day yesterday.

He said that the SLA had always been recognised for its discipline, professionalism, and humanity of the soldiers and believed that they would maintain the national and international reputation earned by the SLA over the last six decades while performing their duties with utmost integrity and dedication.

The main function to mark the Army Day scheduled in Colombo was postponed to 18 October due to the prevailing heavy rains but his statement was sent to all SLA camps in the country, which was read out at the parades held to mark Army Day yesterday.

"I urge you to maintain the dignity and honour that you have gained as the proud members of the SLA and to enhance your personal and professional life to render better service to the nation," he noted.

Lt. Gen. Senanayake pointed out that at a time the civil-military coordination had been augmented more than ever, strengthening this relationship was vital as Sri Lanka was transforming towards sustainable development, in which the SLA was the pioneers of this endeavour.

"It should be our determined intention to promote reconciliation among all communities irrespective of the races and religions to secure economic, social, and cultural values as the Army is directly contributing to the nation-building process," he said.

Commending the sacrifices and services rendered by the war heroes, who actively participated in the humanitarian operations to bring peace to the country, he pledged to increase the existing welfare measures for the families of the fallen and disabled war heroes.

The SLA Chief revealed the plans to transform the SLA to a 'capacity-based force' with modern technology to be par with the modern armies in the world.

"The concept of 'Strategic Corporal' is also a novel venture that the Army is to embark on to enhance the efficiency and efficacy of the individuals and teams. It is certain that these new approaches would benefit to obtain better service whilst maintaining high morale of the Army personnel," he said.

Lt. Gen. Senanayake said that in addition to the SLA's full commitment to the nation-building with a strong focus on reconciliation and development, its selfless contribution to assist the victims in calamities and natural disasters while providing necessary humanitarian assistance to bring the lives of those affected to normalcy was also commended by the nation.