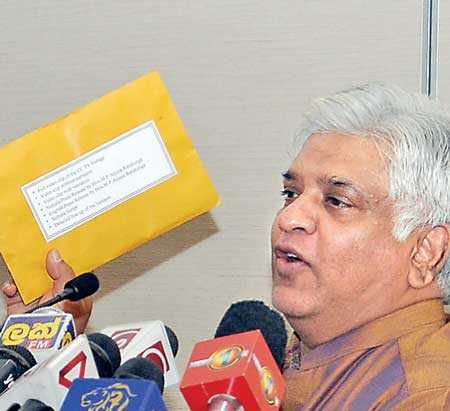 Says no alternative was possible as his life was threatened
By Nuwan Senarathna

United National Party (UNP) MP Arjuna Ranatunga yesterday sought to defend his security officer who discharged a firearm, killing one person and injuring two at the Ceylon Petroleum Corporation (CPC) on 28 October, insisting that it was done in self-defence.

Ranatunga insisted that the security officer was acting in self-defence when the MP and a group with him were attacked by a group of CPC employees.

"I wouldn't be here if my security officer hadn't fired his gun on that day to defend us from the people
MP Arjuna Ranatunga - Pic Ruwan Walpola
who forcibly entered the CPC premises." Ranatunga said he had gone to the CPC premises on 28 October to collect keys to his official residence at the Ministry of Petroleum Resources Development as he wanted to remove his personal effects from his former official residence. He also said that he had called the Secretary of the Ministry to be present while he collected his key.
"The Secretary was out of Colombo and informed me that he would send an Additional Secretary to the CPC premises to be present while I collected my keys."

He alleged that during his presence the mob attack was led by Kulatissa Deeganage, a member of the Colombo Municipal Council. According to the former minister, when Deeganage had tried to abuse him at the CPC premises the security officer removed him from the lobby area and kept him in a nearby Communication and Marketing Services room.

"My security officials removed Deeganage from the lobby area while I was waiting for the Additional Secretary. Through the grill panel on the door, I saw that the same Deeganage had arrived. An interdicted employee of the CPC by the name of Bandula Saman Kumara was also with him."

He noted that Deeganage and Kumara were accompanied by a large number of people carrying poles, metal bars and cricket bats. The mob had screamed at him and threatened to kill him, he added.

Ranatunga pointed out that it was evident that the intention of the mob was to kill him and his life was in danger.

"The mob had assaulted the security officers and tried to break down the door. At one point I saw one of my security officials falling under their blows. Immediately afterwards, I heard the sound of gunshots. I saw a mob fleeing the scene."

He said Special Task Force (STF) officials had arrived and succeeded in removing him safely.

"It is being alleged that I ordered security officials to shoot at the mob. I want to say categorically that I had not given such an order and was not in a position to do so as I was behind a closed door."

Ranatunga said that his lawyer would also represent the security guard who was still in remand.