By Skandha Gunasekara

Finance and Mass Media Minister Mangala Samaraweera told Parliament yesterday that amendments would be introduced to change the current method of awarding financial rewards to Customs officials, to ensure such rewards are equally distributed within the Customs Department.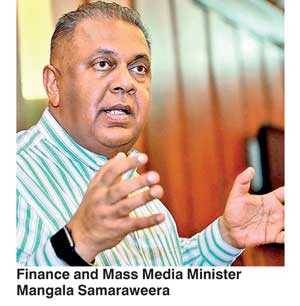 The Minister made these remarks while moving a number of resolutions under the Customs Ordinance for the Second Reading Debate. The Minister noted that the existing system of granting financial rewards was unfair and benefited only a few individuals. "As per the existing provisions of the Customs Ordinance, some Customs officials earn huge amounts in rewards from the detections they made. Those carrying out raids would get 50% of the fine imposed on the offenders caught by the Customs department.

The chance to earn rewards is not broad-based. There was one officer who earned Rs. 100 million a month as rewards. There are officials who earn more than 12 million a year as rewards. We are not jealous or envious of them, but the method of distributing the rewards is not fair for other workers in the department. Only a small section would earn in this manner," the Minister said. Minister Samaraweera went on to say that amendments would be brought to change the reward process, and until then, a temporary system would be implemented to ensure fairness.

"The amendment would take time. Till then I have proposed to distribute 50% of the fine among all 1,600 employees in the Department. Accordingly, 10% of the fine could be given to the detectors and the balance 40% should be equally distributed. This system would come to effect starting this week," the Minister said, adding that he expects to bring in the amendment to the Customs and Excise Ordinance before the Budget debate this year.