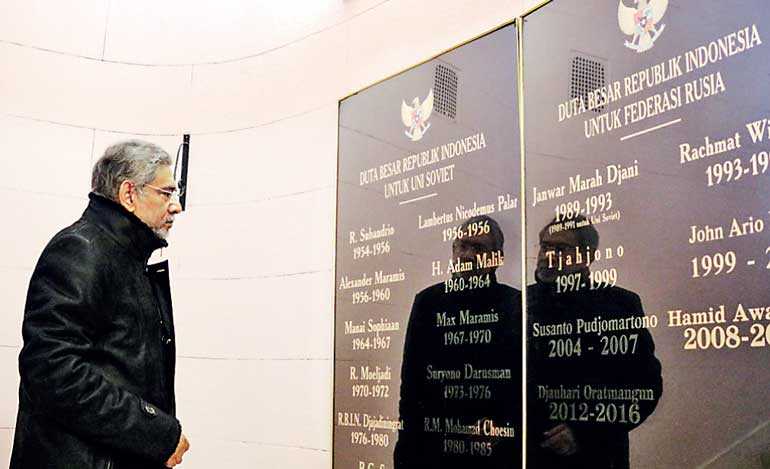 On 21 March Ambassador Extraordinary and Plenipotentiary of the Democratic Socialist Republic of Sri Lanka to the Russian Federation Dr. Dayan Jayatilleka paid a courtesy call on the Ambassador of the Republic of Indonesia to the Russian Federation Mohamad Wahid Supriyadi, who previously served as Consul General in Australia and as Head of Mission in the United Arab Emirates, was appointed as Expert Staff for Economics and Socio-Cultural Affairs at Foreign Ministry, spokesperson of Indonesia's and Director for Information and Media Services Department of Foreign Affairs.

Ambassador Jayatilleka shared his memory of his father's friendship with Dr. R. Subandrio, the Foreign Minister of President Sukarno. Ambassador Jayatilleka also recollected his first visit to Indonesia at the age of eight in 1965 just before the coup d'état when he accompanied his parents, who were invited by Dr. Subandrio for the Afro-Asian Journalists Conference that year. The Indonesian Ambassador pointed out that Dr. Subandrio was Indonesia's first Ambassador to the Soviet Union and that his name is on a plaque in the building.

The two Heads of Missions had a long discussion on current economic and political situation with reference to Indo-Pacific region, and Sri Lanka and Indonesia in particular. The Indonesian Ambassador explained his country's aversion to federalism as it could encourage separatist sentiments, while adding that Indonesia has adopted a halfway house, so to speak, in that over half of the national budget goes to the regions.