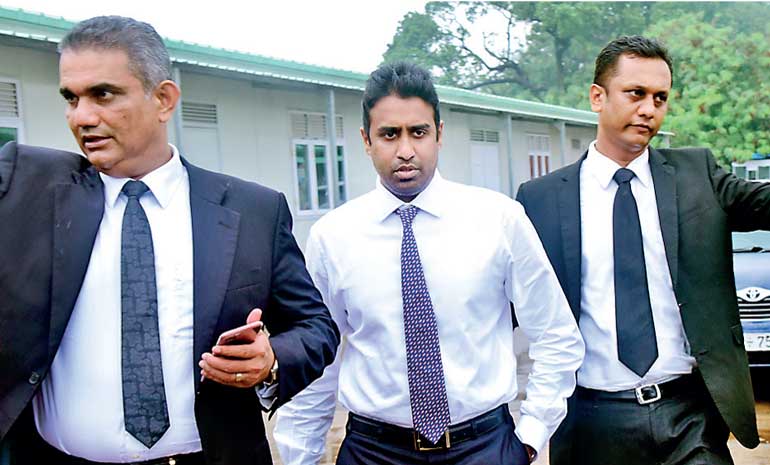 By Himal Kotelawala

The Presidential Commission of Inquiry (PCoI) appointed to inquire into the controversial bond issuance of February 2015 yesterday summoned the former Director of Perpetual Treasuries Ltd. (PTL) Arjun Aloysius to appear before the commission tomorrow in order to testify as a witness.

This was despite Aloysius' new attorney, President's Counsel Gamini Marapana, urging the commission to reconsider the summons on the possibility that evidence given by his client will be used against him in a criminal court hearing on a later date, violating his right to a fair trial.

The commission, having heard Marapana's objections, will make a formal announcement on its decision on the objection raised by Marapana on Wednesday, though its summons to Aloysius still stands, making his presence tomorrow mandatory.

Making his case, Marapana said that the Commissions of Inquiry Act, under which the PCoI was appointed, contains provisions that would enable the Attorney General to indict his client in the event the commission happens upon findings against him.

The commission, if it is desires, can also recommend disciplinary action against him, in which case he would have to be tried in a criminal court.

Citing provisions in Article 13 of the Constitution, Marapana said that any person charged with an offence shall be entitled to be heard at a fair trial by a competent court and every accused party shall be presumed innocent until proven guilty.

Marapana submitted that in the commission›s ongoing proceedings, in terms of Section 24, the PCoI is authorised to admit any evidence that may be inadmissible in any other court, civil or criminal.

The Attorney General, he said, can pursue such evidence and reach a conclusion on his own, independent of the recommendations made by the commission.

"In a democracy, the commissions cannot be permitted to be a law unto themselves and operate outside the ambit of the rule of law," said Marapana, quoting a pronouncement by Justice Weeraratne from the Sirisena Cooray vs. Tissa Bandaranayake case of 1999.

Justice Prasanna Jayawardena noted that the commission is "very conscious" of this judgement.

Sri Lanka's criminal law has a guiding principle, said Marapana, that every person has a privilege against self-incrimination where an accused party cannot be compelled to give evidence.

Elaborating on his position, Marapana said Section 14 of the CoI Act refers to a special immunity for witnesses. The relevant provision reads: "Subject as hereinafter provided, no person shall, in respect of any evidence, written or oral, given by that person to or before the commission at the inquiry, be liable to any action, prosecution or other proceedings in any civil or criminal court."

Marapana asked the commission if it would accept that Aloysius would have this immunity before compelling him to give evidence, adding that if he is forced to give evidence against his wishes it's only fair that he is given the immunity that he's lawfully entitled to.

Justice Jayawardena said the commission would consider it.

While noting that he was mindful that Aloysius was not an accused in the proceedings, Marapana expressed concern that his client could potentially become an accused party later on, jeopardising his right to a fair trial.

He also submitted that detaining Aloysius' computer and mobile phone was a violation of the rule of law, considering Section 66 of the Criminal Procedure Code states an accused person cannot be compelled to produce any documents.

Marapana urged the commission to "give due weight" to those provisions in the law, requesting again not to compel his client to give evidence.
Meanwhile, Senior Additional Solicitor General Dappula de Livera was resolute that the commission warrant has been issued by President Maithripala Sirisena in terms of Section 2 of the CoI Act.

It is fully within the terms and ambit of Section 2, he said, adding that the commission was empowered to identify any wrongdoings and make recommendations as required.

He also pointed out that the CoI, under which the Bond Commission operates, is different from the Special Presidential Commission of Inquiry (SPCoI) Act, which he said is more of an adversarial process that seeks a determination of guilt, entailing penal sanctions.

"This is quite different to the Commissions of Inquiry Act, which this commission is bound by," he said, adding that there is a stark difference between the two statutes - namely with regard to Section 16.

According to de Livera, Section 16 of the CoI Act states that every person whose conduct is the subject of an inquiry under the act (or who is in any way implicated or is concerned in the matter under inquiry) shall be entitled to legal representation. Section 16 of the SPCoI, however, he said, states that every person specified as a person whose conduct is under the subject of inquiry or as a person who is in any way implicated or any person, in the opinion of the commission, should be a subject of inquiry, shall be so informed by the commission and after that be entitled to representation.

The SPCoI is empowered to take into consideration the matter and issue a notice on the party and inform them that the party is now implicated - a power not possessed by this commission, said de Livera, adding that the PCoI is strictly bound by its warrant.

If the warrant in question does not name any persons they cannot be implicated by the commission during the course of the proceedings, he said, stressing that the commission cannot inform any party that they are implicated.

Therefore, said de Livera, the statute envisages an inquisitorial process as opposed to an adversarial one.

Delivering mandate

The commission is only empowered to record evidence and report them, he said, noting that any findings with regard to wrongdoing should be made in its report.

"The identification of persons ought to be done after hearing evidence," he said.

De Livera argued that Aloysius's testimony was necessary in his capacity as a material witness for the commission in its mission to gather evidence.

"This commission has been appointed by the President in the national interest," he said, adding that the people of this country are keenly awaiting the commission's outcome.

Aloysius' testimony will help determine the involvement of any other parties too, he said, referring to the "powerful individuals" purportedly mentioned by Aloysius in one of the recorded telephone conversations played before the Commission last week.

If the commission fails to call Aloysius, said de Livera, it will have failed in its mandate.

Referring to submissions made by Marapana, he said that since it's an inquisitorial process any evidence given to the commission will only be used for the express purposes of the commission's mandate and nowhere else.

The Attorney General, he said, is mandated by Section 24 of the CoI to take into consideration any material excluding any that will fall into category mentioned in Section 14.

As such, he said criminal law principles will not be applicable in this case. Questions of fair trials, therefore should not arise he said as it is not a criminal trial.

"There will be a travesty of justice if Aloysius is not called here," said de Livera, reiterating that the country is eagerly awaiting his testimony.

"There are two people who ought to take the witness stand: Arjuna Mehndran and Arjun Aloysius. There may be others. I won't name them," he added.

Objecting to this remark, former Central Bank Governor Arjuna Mahendran's lawyer Attorney-at-law Chanaka de Silva said as no application had been made by his client, the reference to him was "unwarranted", to which de Livera countered that it's "fully warranted" since he was only referring to persons who ought to testify.

Marapana questioned the claim that the proceedings are inquisitorial as opposed to judicial, stating that penal code proceedings cannot be considered inquisitorial.

"I'm seeking to protect the fundamental rights guaranteed to my client under the Constitution," he said, asking if de Livera meant that national interest can take precedence over his client's fundamental rights as a citizen of Sri Lanka.

Justice Jayawardena assured Marapana that the commission was conscious of its duty to act fairly, quoting Shakespeare from Justice Weeraratne's pronouncement ("it's excellent to have a giant's strength; but it's tyrannous to use it like a giant').

"We're not going to cross any lines but we will fully complete the purpose of our mandate within the law," said Justice Jayawardena, noting that numerous people have been talking "utter rubbish" about the bond issue with no real understanding of the facts. Though some facts have now come to light, he said, the commission has yet to come across any findings of wrongdoing, adding that Aloysius and others have a role to play in shedding more light on the matter.