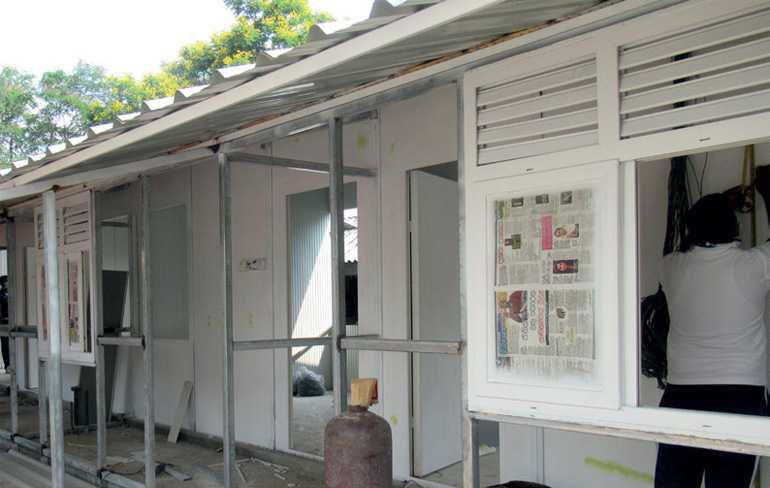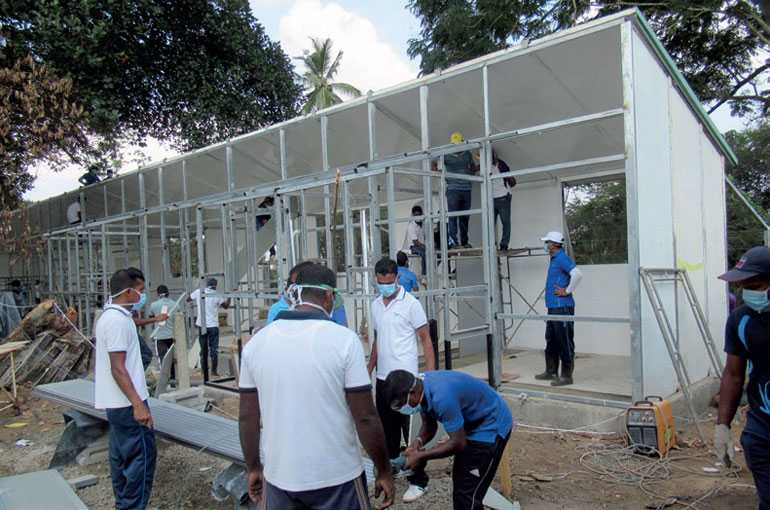 220 SLAF personnel working in shifts to complete 16 rooms
A team of Sri Lanka Air Force (SLAF) personnel are working around the clock to build a 16-room patient isolation ward at the National Institute of Infectious Diseases (IDH) on a request made by Director Heath Services Dr. Anil Jasinghe.

Close to 220 SLAF personnel including nine officers are working in shifts, 24 hours a day, to build the facility at the IDH premises, seen as a top priority as the number of COVID-19 patients grows daily, the Air Force said.

The SLAF Directorate of Civil Engineering has been tasked by the Commander of the Air Force, Air Marshal Sumangala Dias, to construct the 16-room isolation ward for the IDH in the shortest possible time.

The Air Force is using a modified design with two prefabricated structures and ready-mix concrete to build the facility. Air Marshal Dias had inspected the construction recently.

"We are working around the clock. Our teams work in shifts, at times as many as 190 during the day shift, with around 60 working the nights," explained Senior Staff Officer, Civil Engineering, Air Commodore Udula Wijesinghe who is managing the work on site as the Project Officer.

Work on the facility had begun on 18 March with a plan to finish construction in 14 days, however Wijesinghe is confident that with the airmen working around the clock, the ward can be completed ahead of time. "We have the fullest support from the Air Force and other stakeholders and our men know the importance of the project and the urgency at hand," he said.

According to the SLAF, the facility is being built to international standards with each isolation room compartmentalised to ensure maximum safety for the medical staff and patient. The room layout will enable a doctor to enter a secure chamber and instruct the patient through a glass panel if necessary, thereby limiting physical contact with noncritical patients.

"The hospital staff and administration recommended that we change the location of the ward, moving it closer to the intensive care unit block within the premises, therefore we had to work quickly to adapt our designs and work on preparing soil and land surface at the new site to accommodate the building," said Wijesinghe.

According to the Air Force, the health authorities are confident that although designed to house 16 patients, the floor area of each room can accommodate two patients if the need arises.

The project comes as the health authorities and armed forces expand treatment and quarantine facilities in different parts of the country with the active number of COVID-19 infected patients reaching 99.