The All Ceylon Makkal Congress (ACMC) slammed the purported Prime Minister and Finance Minister Mahinda Rajapaksa's decision to slash budget allocations for Northern IDPs.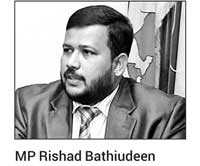 "The funds allocated for long-term IDPs in the last budget has been drastically slashed," said ACMC leader MP Rishad Bathiudeen immediately after leaving the House on 30 November.

"These long-term IDPs – most of which are Muslims in the Northern Province – are the group to suffer the longest since the war times. Their resettlement and welfare support by the Government is vital since there is no one else to spend for them. Before our former Cabinet was replaced by the illegal Government of 26 October with its new Cabinet, the former Cabinet had approved funds for resettlement of these old IDPs. The approval was a thorough process, and it was also cleared by the policy Planning Ministry of the previous Cabinet. Using these approved allocations, resettlement work already started in August. It is unfortunate that the newly appointed PM Rajapaksa slashed Rs. 250 million from these ongoing allocations, leaving these IDPs in great difficulty. Despite leading an illegitimate Government, he has even instructed to divert this Rs. 250 million for other work away from IDP resettlement. This is an illegal action and harms the ongoing resettlement process of IDPs and therefore I, as an MP from Vanni District, have complained to our Speaker Karu Jayasuriya today to mediate and resolve this. We want the IDP resettlement process to resume as soon as possible," MP Bathiudeen said.