Ministry insists there is no concrete plan to form PPP with India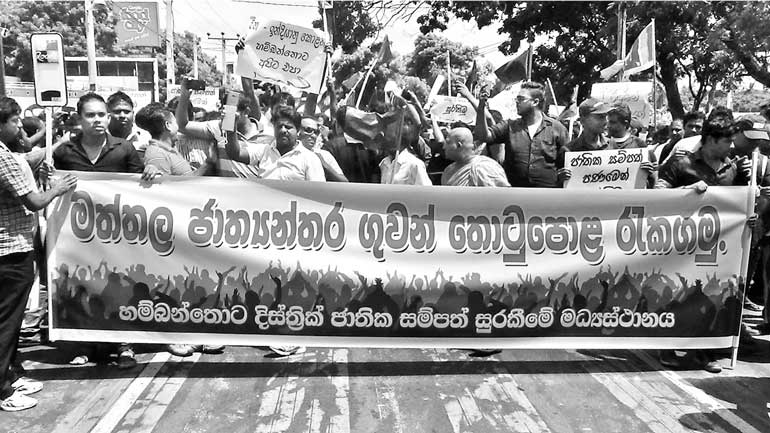 Police yesterday used tear gas to disperse a crowd of protestors gathered in front of Indian Consulate Office, while 26 persons were arrested and three Police officers were injured.

The crowd, led by Joint Opposition MPs, was protesting against a possible Public-Private Partnership between the Sri Lankan Government and India to run the Mahinda Rajapaksa International Airport (MRIA).

However Civil Aviation Ministry Secretary G. S. Withanage insisted that there was no concrete plan on the matter yet as India is yet to send produce a comprehensive proposal following its initial expression of interest.

The Indian Government has indicated willingness to invest $ 205 m as its equity share of the asset which it has valued at $ 293 million. Cabinet approval was granted last month to evaluate the proposal and commence formal negotiations with the Indian counterparts. The Cabinet also instructed the Ministry to obtain a full valuation report from Government Valuer.

The Sri Lankan Government requested a detailed proposal a month ago, immediately following the Cabinet green light.

"We have already asked the Indian representatives to give us a comprehensive proposal but we are yet to receive the proposal," Withanage told Daily FT.

"I have already asked the Chief Valuer of the Government to give me a valuation of the asset, we will negotiate the terms once these are done," he said.

The Cabinet of Ministers has already appointed a Technical Evaluation Committee and a Negotiating Committee to take forward the deal.

The Indian High Commission was not available for comments immediately.