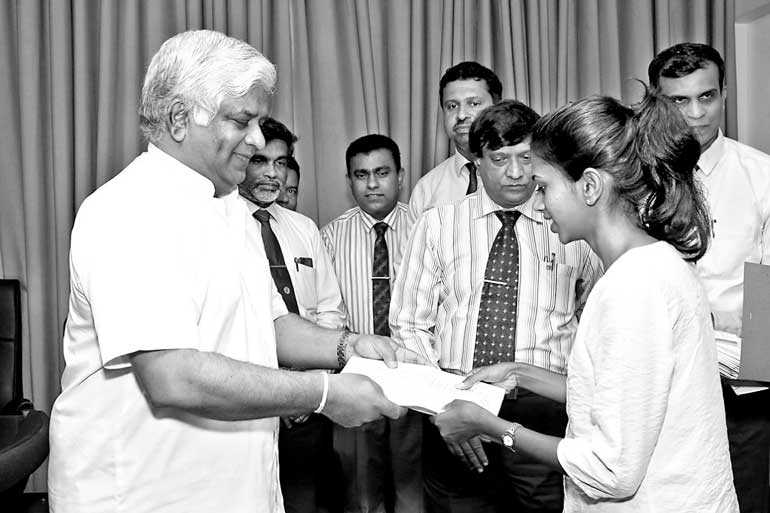 Minister of Petroleum Resources Development Arjuna Ranatunga stated that they decided to offer 10% employment of CPC to children of employees. He made this review at the scholarship awarding ceremony held at the ministry premises recently.

In 1982, Rs. 5,000 of scholarships were given per annum and now it increased to Rs. 60,000 per annum which will be paid in two instalments. There are three scholars from the Medicine Faculty, three from Engineering Faculty, 10 from Science Faculty, three from IT Faculty, four from Management Faculty and two from Arts Faculty. The Minister stated that responsibility to save the institution relies on the worker's hand.

"Everyone has studies by public money. As a minister, I'm also getting paid by public money. Therefore all of us have a responsibility to pay the debt on behalf of the country. If 50% of people have this in their mind, it will be easy to create a better country. But unfortunately, people tend to sell their parents and earn. This institution is running because of the dedication of these parents. Privatisation is the best solution to minimise the expenses in governmental institutions in other countries. Some people think this solution will be suitable for this country as well. If we haven't saved these institutions, it will create a room to privatise these institutions," Minister Ranatunga added further.

Ministry Petroleum Resources Development Secretary Upali Marasinghe, CPC and CPSTL Chairman Dammika Ranatunga, Managing Director Neil Jayasekara, and Manager (HR) Samantha Pushpalal graced the occasion.