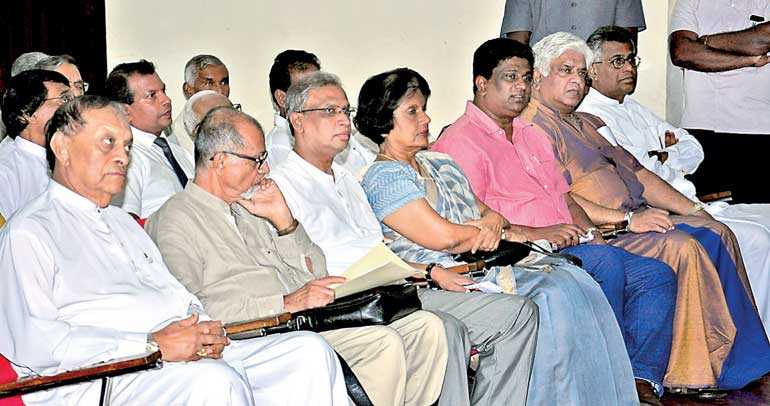 Prof. Wijesuriya expresses deep disappointment in blistering criticism of President Sirisena
Says no pledges were fulfilled, Executive Presidency and anticorruption measures blocked
Holds Sirisena responsible for current strain on democracy, fears civil liberties would vanish if constitutional deadlock remains
Appeals to MPs to put aside differences and uphold the law on 14 Nov.
Founding member of the National Movement for Social Justice Prof. Sarath Wijesuriya yesterday apologised to the nation for supporting the Presidency of Maithripala Sirisena and appealed to the Members of Parliament to uphold the rule of law when Parliament is reconvened on 14 November.

Addressing the ceremony held to commemorate the third death anniversary of Sobitha Thero, Prof. Wijesuriya, delivering a blistering criticism of President Maithripala Sirisena's actions since assuming his current post, apologised to Sri Lankans for the role played by him in spearheading the 'Yahapalanaya Movement' that eventually brought Sirisena to power.

"At this point, I would request forgiveness. I can only say that our intentions were pure and we believed in the path that we embarked on in 2014. This is the third death anniversary of Sobitha Thero and President Sirisena attended the first two but was always careful to refrain from making any promises of abolishing the Executive Presidency. Three years on, he is not even here today," he said.



Prof. Wijesuriya confessed that he was deeply disappointed with the events on 26 October and could not even muster the capacity to write to President Sirisena. He also appealed to lawmakers to put aside their political differences and unite to hold a vote in Parliament on 14 November to end the constitutional deadlock as any other move would push the country towards deeper chaos.

"Under the agenda, I was only to make some short remarks but after the events of 26 October, we gathered together and discussed what could be done. The decision was to present a letter to the President and to meet him to discuss this issue. I was tasked with writing the letter but even though I tried to write the letter a dozen times, I was unable to pen the words 'Honourable President'. How can we refer to a person like this as 'Honourable'? This is a very tragic situation. Due to an unexpected reason, we had to change the location of this commemoration. It is almost a fateful event because if this ground could talk, it would shout out his words. On that first day, he came with a group of people, including Duminda Dissanayake and former President Chandrika Bandaranaike Kumaratunga, to this very same spot and spoke.

"We can still hear the echoes of what he said. His first promise was to end the Executive Presidency in just six months. He promised to strengthen democracy, uphold the rule of law, protect human rights and promote civil liberties. These promises were accepted by civilised citizens, but on 26 October, he broke all of these ideals in the most uncivilised manner. Even though most people felt his betrayal, only on 26 October did most of us sense he would take this step. Sobitha Thero was a person who worked on practical knowledge even though he was an intellectual; his vision was very powerful. When Sobitha Thero heard of President Sirisena's appointment of Shrilal Lakthilaka as a close ally, he said 'This was an appointment of ingratitude.' The events since then give much meaning to these words."

He recalled an instance when Sobitha Thero called him at night at home after President Sirisena accepted the Chairmanship of the Sri Lanka Freedom Party (SLFP) and noted that it appeared as though that post was more important to him than becoming the Executive President. "Even though he presented many reasons for this acceptance, they were all excuses created for his benefit. Even before he took over as SLFP Chairman, the people he appointed through the national list were found wanting."

"The events of 26 October did not take place suddenly. They were done after many months of planning. So, the statement that this change was done because it was impossible to govern with Ranil Wickremesinghe is a complete falsehood. During the last Presidential election, it was pledged to take action against criminals but even when investigations were completed, their arrests were prevented by the President. At that point Ranil Wickremesinghe was not a problem. Can he come out and say that he was prevented by Ranil Wickremesinghe? He protected people who had become captains of corruption. He stopped investigations against Susil Premajayantha, who had accusations of major fraud. He was also the person who blocked the Financial Crimes Investigation Division (FCID) and questioned its legality. Now, he is the Minister of Justice. Now we understand what dangerous situation we are in."

Prof. Wijesuriya questioned whether, when corrupt politicians and other criminals were roaming freely, President Sirisena could be satisfied with the 'Maithri palanaya' he had established. After three years, Prof. Wijesuriya and his group stopped meeting the President with Prof. Wijesuriya intimating that President Sirisena was possibly happy about this development.

"He side-lined former President Kumaratunga intentionally. He dealt a death blow to democracy intentionally. He has broken the Constitution intentionally. Even the most basic level of human decency is not with this person. Why does he go to temple? Why does he take the five precepts? Every time he does so, he just accumulates more sin because he does not live by the teaching of Lord Buddha. I think he should not be forgiven by the right thinking people of this country."

Even after Sobitha Thero's passing, efforts were made to formulate a new Constitution, and this made the movement have hope that longstanding solutions could be found to Sri Lanka's governance issues. However, the SLFP, which initially rejected the Executive Presidency became the party that was against its abolishment.

"If Ranil Wickremesinghe did not support MPs that joined this platform, such as Champika Ranawaka, Duminda Dissanayake and Mahinda Amaraweera, they would not have received Ministerial positions. But when Dilan Perera was talking about removing his loyalists, President Sirisena did nothing. Speaker Karu Jayasuriya and UNP Deputy Leader Sajith Premadasa were offered the Prime Minister position six months ago, but Namal Kumara had not spoken out then, so who is Sirisena trying to fool? If there was a genuine assassination plot, we have competent officials to investigate such claims. There is no need to change Prime Ministers over it."

Prof. Wijesuriya pointed out that the safety of the investigators are now under threat, their families are also vulnerable and they have no other country to go to. Even if there are no politically instigated repercussions to their actions, if violence raises its head again, there would be no public official empowered to investigate such crimes.

"In my view, Mahinda Rajapaksa took this action because there are several serious lawsuits before courts and they cannot be turned back. This is the only reason he would accept a post from a person who has insulted his family. We don't have an issue with Rajapaksa. We have an issue with the fate of democracy, the rule of law and the civil liberties of Sri Lankans. It is essential to resolve this standoff in Parliament. Our request is that if you are people who have drunk mother's milk, please stand for the law and uphold the rights of the people. My worry is that the Speaker may not be able to control the events in Parliament on 14 November. They should know to resolve this problem in a civilised manner. Don't destroy this country at this crucial moment."